The Lifeguard
(2013)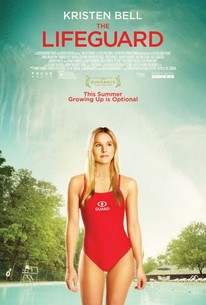 Movie Info
Leigh, almost 30, is living a seemingly perfect life in New York. But when her career and love life both come crashing down, she flees to her suburban hometown and regresses right back into high school life. Picking up right where her teen halcyon days left off, she moves into her old room with her parents, hangs out with friends who never left town, and reclaims her high school job as a condo-complex lifeguard. But as Leigh enjoys shirking off adult life and responsibilities, and enters into an illicit affair, she begins a chain reaction that affects those closest to her. (c) Screen Media and Focus World
News & Interviews for The Lifeguard
Critic Reviews for The Lifeguard
Audience Reviews for The Lifeguard
½
The central character, Leigh (Bell), is a selfish, disgusting, pedophilic person whose narrative isn't all that interesting or valid. She says she's lost in her life and needs to be grounded in her childhood job and home, but instead of finding herself, she simply gives up her life in the city because she's thoughtless. It's fine to misstep and take time off, but she doesn't come home to reflect and get along with her parents. Contrary to this supposed storyline, Leigh disrespects her parents, takes up with a sixteen year old kid, drags her friends into her wormhole of horribleness, and acts out like a teenager. The entire film is gross in its lovelorn depictions of the affair between Leigh and a teenager (Lambert), who she manipulates throughout the course of the film. She nearly ruins her friend's (Gummer) marriage and makes her other friend (Starr) feel like a horrible human being. The ending doesn't have Leigh understand her missteps and rectify the situation, but abandon her victims and flee elsewhere. This is a seriously screwed up film, if indeed it's trying to make the main character seem emotionally sound.
Spencer S.
Super Reviewer
½
Kristen Bell headlines the deplorable indie film The Lifeguard. A depressed and disaffected New York City reporter returns to her home town where she reverts back to her delinquent ways and has an affair with a high school student. The plot just meanders aimlessly from cliche to cliche without any point. And, the characters aren't very likable or interesting. The acting us also especially weak; even Bell gives a phoned in performance. The Lifeguard is an insipid and inane piece of tripe that hints at a moral, but never gets around to it.
Dann Michalski
Super Reviewer
This Summer Growing Up is Optional. Good movie! The film is only exiting and exhilarating if you know before hand what Statutory Rape is and what are the consequences if you were to engage in this illicit act. In Connecticut, the legal consequence for statutory rape is prison for 10 to 20 years. Here in Florida is even worse. It means to be a registered as a sex offender for the rest of your life and not being able to live within a 3 mile radius of a High School, park or where children play. To find a place like that here in South Florida, you would have to move under a Highway and close to the Everglades swamps. Though a decidedly darker film than one would expect, tragic moments are often interrupted by a certain lightness that, in the film's conclusion, allows the audience to hope for our protagonists' future. This is definitely a film worth watching, if simply for the experience of becoming invested in this deeply character-driven story. A former valedictorian quits her reporter job in New York and returns to the place she last felt happy: her childhood home in Connecticut. She gets work as a lifeguard and starts a dangerous relationship with a troubled teenager.
The Lifeguard Quotes
There are no approved quotes yet for this movie.