The Linda McCartney Story
(2000)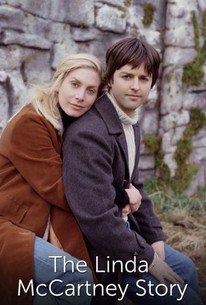 AUDIENCE SCORE
Critic Consensus: No consensus yet.
The Linda McCartney Story Photos
Movie Info
Photographer, Beatles wife, tambourine player, purveyor of vegetarian entrees: Linda McCartney led an undeniably remarkable life. The Linda McCartney Story, based on the book Linda McCartney: The Biography, attempts to present this life in all its glory. Scion of the George Eastman photography dynasty, McCartney is first shown as Linda Eastman, aspiring rock photographer. Flirting her way around the transatlantic rock scene with the likes of Jim Morrison and Mick Jagger, she eventually meets Paul McCartney during the heyday of mid-'60s Beatlemania. Thirty years of marriage, the Beatles' break-up, tambourine playing with Wings, and McCartney's ultimately unsuccessful battle with breast cancer follow, illustrating, over the course of 120 minutes, a life lived with both strength and aplomb.
Audience Reviews for The Linda McCartney Story
Rainy day promoted me to check this out on cmt of all things as i was surfing away. Good bio pic and very educating. Half the stuff that went on in her life i was totally unaware of. I knew she was a photgrapher and thats how she met Paul, but she was also a very tedious groupy apparently having relationships with stars such as Jim Morrison and Mick Jagger. Knowing of her untimely demise due to cancer still didnt shed any of the impact that the sad ending casted. Gary Bakewell looked and acted as Paul so it made the ending all the more sad as if we were at her deathbed ourselves. Im a bio pic fan and have enjoyed alot of the ones i have watched, this one included. I still am waiting for one of the best directors out there to start a project on a Beatles movie. I personally have a cast list of who I think would be good beatles too if any director reads this....hellllo.... ummm hellloo..
The Linda McCartney Story Quotes
There are no approved quotes yet for this movie.