The Little Foxes
(1941)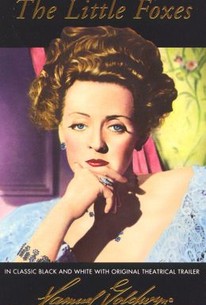 Movie Info
This adaptation of Lillian Hellman's play involves the corrupt machinations of a wealthy Southern family. Vicious queen bee Regina Giddens and her two greedy brothers scheme mercilessly in their attempt to make a fortune on a new cotton mill. In the process, Regina is more than willing to crush anyone who stands in their way -- including her own husband.
Critic Reviews for The Little Foxes
Audience Reviews for The Little Foxes
½
This is no doubt Bette Davis is an inimitable force when it comes to dramatic acting, but the story of a poisoned family clan fighting over money and female empowerment just doesn't interest me that much. Watch this movie for the performances, but this is neither Davis's or Wyler's best film.
Jennifer Xu
Super Reviewer
½
I actually found this movie version a tad more interesting than the play version that I saw. They added a love interest for the young daughter and he was a goof which lightened the mood at times with some comedy.
the fable of little foxes craving for the sweet vines then wrecking the town is adequate for the story. bette davis plays another power-thirsty strong female who solicits what she wants at any cost. davis's role is an eager opportunist who is desperate to hold everything right upon her palm. davis looks mostly glamourous in the southern belle constume shined with matron glitter if her character is not so gluttonishly greedy, audience might take further heed of. and our dear bette's wardrobe is endorsed again by orry-kelly who also attributes bette's glamour in "marked woman." "there're people who do bad things and also people who just stand there and let them do it" demonstrates the spirit of this play. regina and her philistine siblings are the little foxes who ruin the country with their conscienceless exploitations on the common folks. the entire story centers on the mergence of one valuably built business which would realize every ambition and dream regina has had. but her husband is a great hindrance becuz of his reluctance to make a fortune by squeezing out workers' labour. so she holds grudges against him by confiding her long-harbored contempts on him for being a gullible soft fool since the beginning of their marriage that serves a catalyptic shock to deteriorate his heart issue. steal-hearted regina refuses to aid him with his medicine becuz he would spoil her scheme to blackmail her siblings as long as he's alive. so regina obtains everything but her daughter's affinity. eventually regina observes her daughter's departure with a ghastly frown gaze, left alone lost in the room her husband just demises at. davis' regina is not really a great evil menace but more of egoist who yearns for things but bound by her gender and limited resources. she awaits long with this angst which turns her incorrigible. one scene regina glimpses the picture of her youth with scowl and sighs hidden tight beneath her solid surface. she has no intention to manipulate her daughter, and actually she practices things with basic decency as long as no one poses as obstacle to block her access, she would be in good humbor to perform duties, even without a bit of genuine compassion or tenderness. as regina's daughter, teresa wright is always a good casting choice to play the innocent ingeuine, and wright has a natural virtuous grace upon her without contrivance that is competent for good-girl roles like this, such as another her good performance in hitchcock "shadow of a doubt". this flick is great parable of capitalist breaching the world little by little with their sly wits to drill thru the loothole of laws. but pathetically others are just bystanders to connive their sins.
Veronique Kwak
Super Reviewer
The Little Foxes Quotes
There are no approved quotes yet for this movie.