The Little Prince
(2016)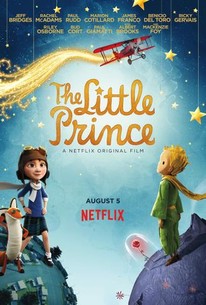 TOMATOMETER
AUDIENCE SCORE
Critic Consensus: Beautifully animated and faithful to the spirit of its classic source material, The Little Prince is a family-friendly treat that anchors thrilling visuals with a satisfying story.
Movie Info
Kung-fu Panda director Mark Osborne teams with producers Aton Soumache and Dimitri Rassam for this animated take on Antoine de Saint-Exupery's beloved novella about a pilot (voice of Jeff Bridges) who crash lands in the Sahara desert and encounters a mysterious young boy who claims to be an extraterrestrial prince. James Franco, Rachel McAdams, Marion Cotillard, Benicio Del Toro, and Paul Giamatti also lend their voices to this Onyx Films production. ~ Jason Buchanan, Rovi
News & Interviews for The Little Prince
Critic Reviews for The Little Prince
Audience Reviews for The Little Prince
½
The animation is stunning, but the plot (whose title is misleading even if it does a great job reinterpreting the story in a new context) feels a bit all over the place in its second act (with a clear lack of cohesion between the two storylines) and has problems such as the mother's absurdly incoherent behavior in the end.
Carlos Magalhães
Super Reviewer
½
A beautiful papery, textured animation of the Exupery classic, unfortunately surrounded by a highly conventional framing animation extolling the need to not be boring in worn-out terms. Much overuse of imagery from 'The Wall', 'Brazil', 'The Apartment' and other dystopian fantasies. The put-upon child has the same face as any other Pixar kid. Le Petit Prince grows up into a miserable janitor and needs rescuing. The businessman captures the stars and crushes them to fuel his corporation. The rose is dead and baobabs have overcome the Prince's asteroid. Things are set to right (obviously) but the fluttering, Sufist magic of the original tale is drowned out by the bombast of a mundane CGI adventure. People do not seem to understand the destructive power of excitement. The businessman wasn't an ogre in the book; he was blind: he needed help. Plus the Tippler and the Lamplighter do not even appear (they are referred to visually but ignored in the script.) If you can watch only the bits relating to the original tale, do that. I may do my own edit just to see what it looks like. I imagine it is twenty minutes of ephemeral beauty, just like the book.
Charles Brennan
Super Reviewer
Where do I possibly begin to describe just how incredible this film truly is? There have been many impressive animated films throughout the years, but many are geared toward a younger audience. There are very few that challenge their audience in the way that The Little Prince does, but that is only the beginning of what makes this film an absolute masterpiece. There is a core story to this film, but many things are left up to the interpretation of its audience, and while I think certain things happened throughout the course of this film, other may not have. The Little Prince is one of the greatest animated feature films in recent memory, and here is why. Originating as a French film before being brought to the rest of the world and dubbed in different languages for a wider audience, it just goes to show that there are many more great films out there that are hard to find. To put it simply, a little girl moves into a new home with her mother, in preparation for a very prestigious school. During the summer, she must follow every rule set in motion by her mother. When her mother leaves for work, she slowly discovers an elderly man living next door and he introduces her to the story of The Little Prince. Trying to convince her that this little boy is real and this other world exists where amazing things happen, they form a very strong bond with one another. From beginning to end, this film gleams with originality. Although it is a film that has child-like visuals, its core story is much more mature than one might expect. Children seem to feel as though their parents work too much and they never get to see them enough. We live in a world where children do not understand the motivation of their parents actions. The Little Prince takes that notion and takes a quite literal approach to displaying this on screen. This strange other universe has places where only children exist, finding every adult strange and others that have the same, yet reversed ideal. These ideals only work if the core characters of the film are interesting enough to want to see them venture into these worlds, and because they are, this film flows like a fictional piece of art. After viewing this film, I truly do not have a single complaint about the display of this fictional world. Sure, if you are to break down logic and not allow your mind to open wider than usual, you may find some flaws that bug you, but that is not what great storytelling is. Great storytelling is when a film allows you to open your mind and escape into a world that you wish you were in. Doing something that really has never been done in a major motion picture before, The Little Prince has three very different styles of animation throughout. There is the clean-looking visuals for the core storyline, the 2D hand-drawn animation to display the other world in story form, and the in-between where the story comes to life in order to dive deeper into the characters in the story. For many reasons, this style works wonders for this picture, as the audience is able to experience a few twists and turns that will leave them speechless. There are multiple occasions in the final act of this film that had me tearing up. There are very few characters to follow here, which makes the impact of their arcs that much more compelling. You truly feel as though you know these characters inside out by the end of the picture. Not having seen the original French version, I can only vouch for the voice talent in the American version, but I am sure the original is just as spectacular as this one. Every performance feels as though they care about their character and give a very down to earth performance. From the magnificent storytelling, to the perfection of its screenplay, to its unique and original visuals, The Little Prince is one of the most incredible animated films I have seen in many, many years. I am not quite sure if this film is eligible for an Academy Award, seeing as it was released in 2015 in its own country and then officially released globally this year, but if I am able to count this film as a 2016 release, it is easily one of the best you will see all year. This picture is the reason why I love film. The Little Prince is an animated masterpiece.
The Little Prince Quotes
| | |
| --- | --- |
| Mr. Prince: | The men where you live grow thousands of Roses. And, they do not find what they are looking for. What they are looking for could find in a single Rose. Or a little water. |
| | |
| --- | --- |
| The Little Girl: | Once upon a time there was little prince who lived on a planet that was scarcely bigger than himself. |
| | |
| --- | --- |
| The Aviator: | You're going to make a wonderful adult. |
| | |
| --- | --- |
| Mr. Prince: | It is only with heart that one can see rightly; what is essential is invisible to the eye. |