The Little Rascals
(1994)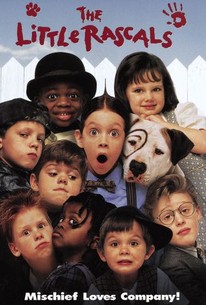 The Little Rascals Videos
The Little Rascals Photos
Movie Info
The original "Little Rascals" was a series of movie shorts from the 1930s featuring the antics of small children. This children's movie keeps the nostalgic feeling of the original as it follows the exploits of Spanky, Alfalfa, and whole lovable gang.
Critic Reviews for The Little Rascals
Audience Reviews for The Little Rascals
½
Movie about a bunch of kids in a boys club.
Candy Rose
Super Reviewer
The Little Rascals is one of those films that you really enjoy as a kid, but that unfortunately, doesn't stand the test of time. I remember loving this film growing up, and it was fun back then. However now in my adulthood, I'm recalling all the childhood favorites that are still relevant today, and unfortunately, The Little Rascals doesn't live up to that reputation. The film suffers the same curse as other old, amusing family films that were fun when growing up, such as The Flintstones and Hook. They were all fun when I was young, but now, they feel quite pathetic, and inane. Watching this film, you say to yourself, why was this even funny? The jokes are stupid, the acting is awful, and really the film hasn't stood the test of time like so many other childhood classics. I think it's too bad because the film was a lot of fun to watch while growing up. But like I said, the film didn't stand the test of time, and doesn't deserve to be along the classics such as The Sandlot, Toy Story, Casper and E.T. This film is awful. Viewing it now, you realize how stupid it really is, and how pointless the film is. This is one of the few films that I liked when I was younger, that really hasn't aged well for me. The film is pretty stupid nowadays. The Little Rascals is one of those childhood films that you can easily forget about because the film isn't memorable or a classic. My favorite childhood film is The Sandlot, and that film is still a lot of fun today. Some childhood favorites remain relevant and others don't, and The Little Rascals is one of them. A stupid, low humor filled film that you'll be disappointed if you watch again in your adult years.
½
The Little Rascals is only about 80 minutes lonh, and that was still too long for this crap.
Jim Careter
Super Reviewer
The Little Rascals Quotes
| | |
| --- | --- |
| Stymie: | "You only make a once in a lifetime buddy, once in a lifetime." |
| Stymie: | You only make a once in a lifetime buddy, once in a lifetime. |
| | |
| --- | --- |
| Spanky: | How's the toothache, bub? |
| Alfalfa: | Uh, dentist pulled my wisdom teeth. |
| Spanky: | So that explains why you're acting so stupid. |
| | |
| --- | --- |
| Twin #1: | (referring to Waldo) He's smoother than a baby's bottom. |
| Twin #1: | [referring to Waldo] He's smoother than a baby's bottom. |
| Twin #2: | And he smells better, too. |
| | |
| --- | --- |
| Buckwheat's Mom: | Winner by a hair! |