The Lives of Others
(2006)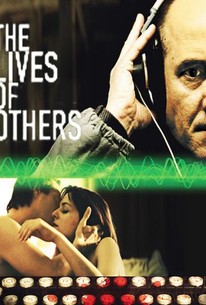 TOMATOMETER
AUDIENCE SCORE
Critic Consensus: Unlike more traditional spy films, The Lives of Others doesn't sacrifice character for cloak and dagger chases, and the performances (notably that by the late Ulrich Muhe) stay with you.
The Lives of Others Videos
The Lives of Others Photos
Movie Info
A man who has devoted his life to ferreting out "dangerous" characters is thrown into a quandary when he investigates a man who poses no threat in this drama, the first feature from German filmmaker Florian Henckel von Donnersmarck. It's 1984, and Capt. Gerd Wiesler (Ulrich Mühe) is an agent of the Stasi, the East German Secret Police. Weisler carefully and dispassionately investigates people who might be deemed some sort of threat to the state. Shortly after Weisler's former classmate, Lt. Col. Grubitz (Ulrich Tukur), invites him to a theatrical piece by celebrated East German playwright Georg Dreyman (Sebastian Koch), Minister Bruno Hempf (Thomas Thieme) informs Weisler that he suspects Dreyman of political dissidence, and wonders if this renowned patriot is all that he seems to be. As it turns out, Hempf has something of an ulterior motive for trying to pin something on Dreyman: a deep-seated infatuation with Christa-Maria Sieland (Martina Gedeck), Dreyman's girlfriend. Nevertheless, Grubitz, who is anxious to further his career, appoints Weisler to spy on the gentleman with his help. Weisler plants listening devices in Dreyman's apartment and begins shadowing the writer. As Weisler monitors Dreyman's daily life, however (from a secret surveillance station in the gentleman's attic), he discovers the writer is one of the few East Germans who genuinely believes in his leaders. This changes over time, however, as Dreyman discovers that Christa-Maria is being blackmailed into a sexual relationship with Hempf, and one of Dreyman's friends, stage director Albert Jerska (Volkmar Kleinert), is driven to suicide after himself being blackballed by the government. Dreyman's loyalty thus shifts away from the East German government, and he anonymously posts an anti-establishment piece in a major newspaper which rouses the fury of government officials. Meanwhile, Weisler becomes deeply emotionally drawn into the lives of Dreyman and Sieland, and becomes something of an anti-establishment figure himself, embracing freedom of thought and expression. A major box-office success in Germany, Das Leben der Anderen (aka The Lives of Others) received its North American premiere at the 2006 Toronto Film Festival. ~ Mark Deming, Rovi
Critic Reviews for The Lives of Others
Audience Reviews for The Lives of Others
Detailing the lives of those in the Communist controlled GDR, "The Lives of Others" succinctly shows the humanism of those in the Stasi (secret German police). While most dystopian texts and films deal with the fight between the enemy (government) and the hunted (citizens) this film deals more in showing how all people were oppressed by this form of Communism, and the lengths this government took in silencing dissenters. It created a blatant, all-encompassing fear among its people as well. The characters have complex motivations for their actions: the playwright loves his country but is touched by its darkness when his friend is blacklisted, his girlfriend has a drug addiction and needs the help of a high ranking official, and the culture minister uses government resources for personal reasons under a veil of socialist reform. The transformation of the main character from a detached and yet passionate government worker, into a fully realized dissenter, is shown throughout the course of the film. The irony of the events, and the interconnected evolution of each character's feelings towards their country, shape the film's narrative. Much of this film remains gripping if not subtle in its depictions. Not only will you learn quite a bit about the operational exploits of the Stasi, but the true feelings of oppression exhibited by the main characters.
Spencer S.
Super Reviewer
½
Before going Hollywood with The Tourist, writer/director Florian Henckel von Donnersmarck delivered the goods with this stellar Cold War drama. The time is 1984. The place is East Germany. Our protagonist is a member of the Stasi, or State Secret Police. His job is to constantly monitor the activities of whoever he is told to. And he does, being the consummate professional that he is. Things start to get iffy though when he is assigned to monitor a playright who has a reputation for being a staunch pro-Communist...especially when the revelations he uncovers have major consequences for lots of people, including himself. I really loved this one. It's weird for me to say that too, because surveillance and bugging, and all of that creeps me out. The world of paranoia and secrecy is quite fascinating though, especially here since this is a period piece rooted in interesting history. The film is subtle, quiet, intelligent, and really rewarding for the patient. It's also gorgeous in its look, mood, tone, atmosphere, and art direction/set design. It is a thriller, bbut not the slam bang wall -to-wall action type, and that's what I liked about it. Yeah, there's some development lacking with some of the characters, but overall this is still a marvelous piece of work with some tremendous acting, good ideas, and great subject matter. Definitely give this one a look. It's not going to be for all tastes, but if you enjoyed something like Tinker Tailor Soldier Spy, then you'll probably enjoy this one as well.
Chris Weber
Super Reviewer
½
A member of the East German secret police who is investigating a famous playwright and suspected subversive grows ever more sympathetic towards the people he is spying upon when faced with the everyday pressures of the oppressive regime he represents. Although touted as a "thriller", anyone expecting car chases and shoot-outs from The Lives Of Others will be gravely disappointed. It's a far more intellectual exercise that examines the meaning of freedom and its intimate link with personal privacy, something violated with impunity by The Stasi in the post war years of communist Germany. The story begins showing Ulrich Mühe's character as not an evil man, but a joyless, officious bureaucrat who truly believes in what he is doing. It is only when he is faced with the reality of the invasive system he is a part of that he begins to question the validity of his activities; especially when it becomes obvious that the accusations were made by a corrupt superior out of sexual jealousy and a colleague who sees the ruination of an obviously decent couple as a mere means to furthering his own career. Very nicely shot and performed, It's a thoughtful and beautifully crafted story that exercises the brain rather than the adrenaline gland and is all the more rewarding for it.
The Lives of Others Quotes
| | |
| --- | --- |
| Bookseller: | Want it gift-wrapped? |
| Captain Gerd Wiesler: | No, it's for me. |
| | |
| --- | --- |
| Georg Dreyman: | The state office for statistics on Hans-Beimler street counts everything; knows everything: how many pairs of shoes I buy a year: 2.3, how many books I read a year: 3.2 and how many students graduate with perfect marks: 6,347. But there's one statistic that isn't collected there, perhaps because such numbers cause even paper-pushers pain: and that is the suicide rate. |
| | |
| --- | --- |
| Captain Gerd Wiesler: | An innocent prisoner will become more angry by the hour due to the injustice suffered. He will shout and rage. A guilty prisoner becomes more calm and quiet. Or he cries. He knows he's there for a reason. The best way to establish guilt or innocence is non-stop interrogation. |