The Lobster
(2016)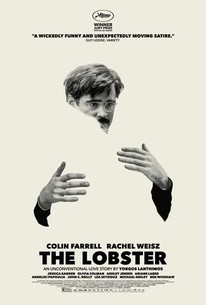 TOMATOMETER
AUDIENCE SCORE
Critic Consensus: As strange as it is thrillingly ambitious, The Lobster is definitely an acquired taste -- but for viewers with the fortitude to crack through Yorgos Lanthimos' offbeat sensibilities, it should prove a savory cinematic treat.
Movie Info
Colin Farrell stars as David, a man who has just been dumped by his wife. To make matters worse, David lives in a society where single people have 45 days to find true love, or else they are turned into the animal of their choice and released into the woods. David is kept at the mysterious hotel while he searches for a new partner, and after several romantic misadventures decides to make a daring escape to abandon this world. He ultimately joins up with a rebel faction known as The Loners, a group founded on a complete rejection of romance. But once there David meets an enigmatic stranger (Rachel Weisz) who stirs up unexpected and strong feelings within him... At once a full immersion into a strange and surreal world, and a witty and clever reflection of our own society, THE LOBSTER is a thrillingly audacious vision fully brought to life by Lanthimos and his terrific cast. The filmmaker displays a completely singular style and mastery of tone, finding the perfect balance between sharp-edged satire and romantic fable that entertains its audience while also leaving them with lots to reflect on long after the credits have rolled.
News & Interviews for The Lobster
Critic Reviews for The Lobster
Audience Reviews for The Lobster
This would have appealed to me ten years ago. Now, it is just plain pretentious and insincere.
_kelly .King
Super Reviewer
When people decry the relentless slate of sequels, remakes, and redundancy from the Hollywood assembly line, they're looking for something original and different, and there may be no movie more different this year than Yorgos Lanthimos's The Lobster. David (Colin Farrell) is the newest guest at the Hotel, a place for singles to find their true love. He has 40 days to fall in love with a compatible mate or else he will be transformed into an animal of his choice (hence the title, David's choice). The people at the hotel are all in competition to find their mate. Outside the confines of the hotel, in the woods, are dreaded single people, those who ignored the rules of society. They are to be feared and hotel guests are rewarded for capturing wild singles on weekly hunting trips. One way or another, David is going to have to decide his place in society as a person or animal. The Lobster is daringly different, wildly imaginative, and drops you into the middle of its cracked, alternative landscape and expects you to pick things up as you go. It's something that the writer/director already achieved with chilling, car-crash fascination in Dogtooth, a dark parable about extreme parental protection that crossed over into abuse. This is a world that opens with a distraught woman driving a long distance just so she can shoot a donkey in the head. Who is this woman? Why would she purposely murder this animal? Why is she so emotionally invested? And with that jarring act of peculiar violence, we're off. We're never told how this world came to be, it just simply is. There isn't any extensive exposition save for one initial sit down David has with hotel management to determine what animal he'd like to turn into at the end of his stay if unsuccessful in love. There's a genuine sense of authenticity to this deeply weird place and the characters all play it with straight-laced absurdity, which makes the satire land even harder. It sells even the most bizarre aspects, like the ongoing visual incongruity of wild animals just trotting around the background. You can sit back and think, "I wonder what that peacock's story was, or that donkey, etc." It's abnormal background pieces that add to the context of the world. I loved discovering new little wrinkles and rules to Lanthimos' world that made perfect sense within its parameters. In a world where coupling is the only goal, of course masturbation would be a punishable crime. I enjoyed that there are other means guests have to stay at the hotel, chief among them hunting down the loners in the woods, which allow the more awkward or anti-social guests added time at the expense of others. Even in a world this bizarre, there are people who are making their own way, including the revolutionaries in the woods (more on them later). The movie is exceedingly funny and so matter-of-fact about its peculiarities to make it even funnier. The movie straddles the line between skewed ironic romance and cynicism, so I'm not surprised it's rubbed people the wrong way. This can be a pretty dark movie and that's even before the violence against animals/former people. It's certainly written from the point of view of someone who is single and those currently in that category will likely relate the most to the film's strident social commentary. "It's no coincidence the targets are shaped like single people," a man says in reference to target outlines. The pressures can seem absurd in their own regard, and the film has a clever concoction where the "happy couples" are merely two people who share a superficial physical trait. These two people are near-sighted. These two people get nosebleeds. These two people have a limp. Even the characters are named after their physical depictions, like The Limping Man and Short-Sighted Woman. It's not exactly subtle but the satiric effect is still effective. The hotel manager says, to a newly cemented couple, "If you encounter any problems you cannot resolve yourselves, you will be assigned children, that usually helps." There's a sad woman played by Ashley Jensen (TV's Extras, Ugly Betty) who is desperate for companionship, offering sexual favors to any man who might just alleviate her loneliness. She is ignored and often threatens to kill herself, and then one day she does it by jumping out a hotel window, but she's not successful. It's one more dark, awful ironic point of suffering for this woman, and she screams in agony while others ignore her, including a clearly affected David, still trying to play indifferent to win over the hard-hearted woman he sees as his best way out of the hotel. It's a hard moment to process but one that made me admire the film even more for the cold courage of its convictions. Supplementing the dark satire is an off-kilter romance that emerges halfway through the film once David escapes the hotel. He finally meets up with the source of our narration, the Short-Sighted Woman (Rachel Weisz). It's here that the movie shows glimmers of hope for the hopeless as David and this woman are drawn to one another. They're in a world of outcasts but the rules of those in the forest do not allow coupling. They reject the expectations of the ruling order, and so they must remain resolutely single. the only time David and the Short-Sighted Woman can be open with their affection is when they go undercover into the city, posing as a couple, and getting a chance to kiss with abandon, all as a cover of course. They build up their own secret non-verbal language to communicate their feelings, much like a couple builds its own personal shorthand and inside jokes. The loners are only to listen to music individually and dance the same, but David and the Short-Sighted Woman synch their CD players to listen to the same track, to simulate like they are sharing a dance together even if not in proximity. It's here where The Lobster becomes a beguiling and surprising love story and one where the heartless may grow a heart, watching two odd people find one another in such an odd world. However, Lanthimos does not let this emergence of romance blunt his message. The loner leader (Lea Seydoux) suspects coupling in her group and goes to some pretty drastic lengths to test the fortitude of feelings between David and his secret girlfriend. It's like getting cold water dumped on the runaway spell of optimism. The fitting ending is left in ambiguity for the audience to determine whether they were meant to be after all. It's also in the second half of The Lobster that the movie loses some of its grandeur and momentum. We're introduced to a new primary setting with new rules to adapt to and a new order to follow, and there's a general interest to discovering another competing area of this landscape with a diametrically opposed social order. They punish people by mutilating parts that come into affectionate contact with another person. We see a couple with bandages around their red, swollen mouths, and then the reference of the "red intercourse" makes your imagination fill in the horrific blanks. David has left one regime dictating his life to another regime dictating his life, but they just aren't as interesting. It feels like the film is starting to repeat itself. I would say the second half world building isn't as compelling as the first but that's why the romance emerges, something for the audience to root for. Now that he's finally found someone he connects with they're not allowed to be together. There's never a shortage of irony in a Lanthimos movie. The actors are perfectly in synch with the strange rhythms of this world, and Farrell (Fantastic Beasts and Where to Find Them) and Weisz (The Light Between Oceans) deserve special attention for their committed performances. Farrell gained 40 pounds for the role, which seems to have translated right into his stint on season two of HBO's True Detective. He's a schlubby guy that's still mourning the deterioration of his marriage and larger society is insisting he get over it. He has only 40 days to recover or he'll be plucked from the ranks of humanity. There's great sadness tinged in his nonchalant responses to the absurd realities of this world, and Farrell keeps finding ways to make you laugh and wince. Weisz is our placid voice into the strange new world and it helps establish a sense of grounding as well as connection to her character when she eventually emerges. She injects a palpable sense of yearning to her character, especially once David is in reach and they begin their relationship. It's got the cute romantic comedy staples but on its own terms, and seeing Weisz smile warmly is a pleasure in a morbid movie. The Lobster is a romance for our age and an indictment of the romance of our age, an era where the swipe of a finger on an app is the arbitrator of contemporary dating. It's a satire on our fixation of coupledom and being in relationships even when they're not sensible. It's a cracked fairy tale that punctuates the romantic love we've watched distilled to an essence in Hollywood movies. It's a surreal and dark movie that manages to become emotionally moving and poignant, leaving on a note of uncertainty enough for different factions in the audience to interpret as either hopeful or hopeless. The Lobster is a unique movie with a singular artistic voice that dominates every shape of the narrative, the characters, and the boundaries of this fantastic alternative world. I imagine my depth of feeling for the movie will only grow the more I watch it. This isn't an overwhelmingly dark or unpleasant movie without the presence of some light. It's not an overly off-putting movie without an accessibility for a curious audience, whether those people are single or in happy relationships. The movie is inventive, transporting, but still relatable, rooting the nexus of its weirdness on the same awkwardness and anxiety everyone feels with the prospects of prolonged romantic courtship. If 2016 was a year that celebrated the oddities of cinema getting their due, then The Lobster is a captivating and unusual creation deserving of its spotlight and surefire future cult status amidst lovers of the weird. Nate's Grade: A
Nate Zoebl
Super Reviewer
½
Whilst the concept is flawless and intelligent, the delivery is dry and boring.
Film Crazy
Super Reviewer
The Lobster Quotes
| | |
| --- | --- |
| David: | I've got good news. I've had a great idea. |
| Short Sighted Woman: | What kind of idea? |
| Lisping Man: | I raise my left foot. I bring my elbow to my knee and tap it twice, I bring my foot to my knee and tap it three times. I lie face down, I kneel down. I touch my left cheek and then lie face up. |
| Short Sighted Woman: | Are you sure you're prepared to do that |
| | |
| --- | --- |
| Hotel Manager: | Tomorrow, they'll be transferred to a double room, with a larger wardrobe and a larger bathroom. They will remain in the double room for two weeks, then they'll be transferred to the yachts for a further two weeks. We wish you every success and we hope that you will return to the city as a couple. |
| The Limping Man: | I'm very happy. |
| Nosebleed Woman: | Me too. |