The Long Good Friday
(1982)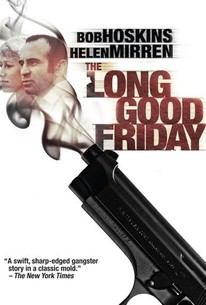 TOMATOMETER
AUDIENCE SCORE
Critic Consensus: Bob Hoskins commands a deviously sinister performance in The Long Good Friday -- a gangster flick with ferocious intelligence, tight plotting and razor-edged thrills.
The Long Good Friday Photos
Movie Info
John Mackenzie's masterfully directed British crime drama features a star-making performance by Bob Hoskins as Harold Shand, a successful London gangster whose world falls apart over the course of one weekend. Shand controls the London docks and is planning a big real estate deal, financed by money from the American mob and given the okay by the London organization. His world is sweet -- he lives in a fancy penthouse, he owns a yacht, and has a sensitive and intelligent mistress. But suddenly a bomb explodes inside his Rolls Royce, another bomb destroys a pub he owns, and a third is found inside his casino. Shand can't understand who would suddenly want him dead, particularly over the Easter weekend, when representatives from the American mafia are coming into town to discuss investing in Shands's real estate project.
News & Interviews for The Long Good Friday
Critic Reviews for The Long Good Friday
Audience Reviews for The Long Good Friday
½
The Long Good Friday is Hoskins' break out performance and it's no surprise as to why. He inhabits the role of Harold Shand with such passion that we are completely swept along with him. Harold Shand is a gangster and businessman. As he approaches making a lucrative deal with some Americans, a number of his crew are taken out via stabbings and bombs. He and his gang must find the culprits before the Americans are scared off. It's a race against time but with no real heroes. We feel for the character of Shand but at no point are asked to excuse or support him. The score is beautiful, in an old electronic kind of way, it does set the scene and builds up exciting moments. The sound design is also often exaggerated but in a way that it brings added and important emphasis to certain scenes. Director Mackenzie also likes to get experimental at times, but only when it really serves the plot, such as the upside down meat truck scene. It's a great film that warns against greed and corruption, but is also littered with memorable dialogue.
Luke Baldock
Super Reviewer
Well deserving of its many accolades, Friday is one cheery holiday weekend with Brit crimelord Bob Hoskins (in a juggernaut performance worthy of all the gangster greats) as his world crumbles all around him. Helen Mirren lends able support (one of the best I've seen her in) and Pierce Brosnan also makes a brief appearance. Great writing showcases this 1981 thrill ride.
Kevin M. Williams
Super Reviewer
Bob Hoskins, Helen Mirren and a kick-ass ending.
Randy Tippy
Super Reviewer
The Long Good Friday Quotes
| | |
| --- | --- |
| Harold Shand: | " I'm not a politician; I'm a businessman, with a sense of history; and I'm also a Londoner. And today is a day of great historical significance for London. Our country's not an island any more. We're a leading European state. And I believe this is the decade London will become Europe's capital. " |
| Harold Shand: | I'm not a politician; I'm a businessman, with a sense of history; and I'm also a Londoner. And today is a day of great historical significance for London. Our country's not an island any more. We're a leading European state. And I believe this is the decade London will become Europe's capital. |
| | |
| --- | --- |
| Harold Shand: | Who's having a go at me? Can you think of anyone who might have an old score to settle or something? |
| Razors: | Who's big enough to take you on? |
| Harold Shand: | Well, there was a few. |