The Long Voyage Home
(1940)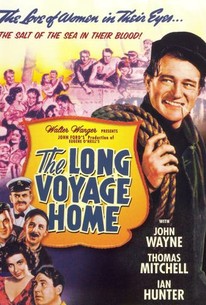 The Long Voyage Home Photos
Movie Info
Four one-act plays by Eugene O'Neill form the basis of John Ford's World War II drama about the lives of merchant seamen. John Wayne stars as Ole Olsen, a young Swede attempting to get home as the rest of his crew prepares for shore leave; when he is drugged and kidnapped by the members of a rival ship, battle ensues.
Critic Reviews for The Long Voyage Home
Audience Reviews for The Long Voyage Home
½
A year before the United States entered WW2 (although it was already hot over in Europe) comes this adaptation of Eugene O'Neill's look at the lives of a crew of merchant seamen. John Ford uses many of his usual players, something of a theater company, and so the camaraderie of old hands working together permeates the work. John Wayne is listed as the star but that's not necessarily so. This is Thomas Mitchell's film, with Barry Fitzgerald co-starring, but its really a company work. Wayne is only in a supporting role as a Swedish crewman (and one of the worst Swedish accents in film history short of comedy, but the Duke is game and throws with all he has). It's a interesting tale in that, like the lives of the men portrayed, there is no real destination, only the going from port to port, dealing with the problems every voyage might present, little lost boys of the sea ... and so an undercurrent of sadness ... good storytelling.
Kevin M. Williams
Super Reviewer
Dreadfully dull tale featuring a very young John Wayne talking about probably the most boring cross Atlantic trip ever taken. Someone is a German spy on board and the audience doesn't care.
John Ballantine
Super Reviewer
Story of a mixed bunch a merchant sailors. It's funny to hear John Wayne play a Swede. His accent is almost as bad as Jamie Lee Curtis's one in Trading Places, and that was on purpose. Thomas Mitchell is a character as always.
Sean Gillespie
Super Reviewer
The Long Voyage Home Quotes
There are no approved quotes yet for this movie.