The Longest Ride
(2015)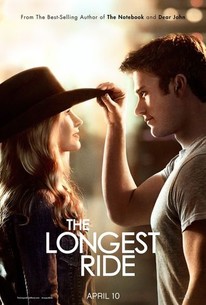 TOMATOMETER
AUDIENCE SCORE
Critic Consensus: The Longest Ride is less manipulative than the average Nicholas Sparks film, but it's still saccharine and hopelessly contrived -- not that it'll matter to the target audience.
Movie Info
Based on the bestselling novel by master storyteller Nicholas Sparks, THE LONGEST RIDE centers on the star-crossed love affair between Luke, a former champion bull rider looking to make a comeback, and Sophia, a college student who is about to embark upon her dream job in New York City's art world. As conflicting paths and ideals test their relationship, Sophia and Luke make an unexpected and fateful connection with Ira, whose memories of his own decades-long romance with his beloved wife deeply inspire the young couple. Spanning generations and two intertwining love stories, THE LONGEST RIDE explores the challenges and infinite rewards of enduring love. (C) Fox
News & Interviews for The Longest Ride
Critic Reviews for The Longest Ride
Audience Reviews for The Longest Ride
Based on a Nicholas Sparks novel, The Longest Ride is a touching romantic drama. The story follows an aspiring art major and a professional bull rider who fall in love, and have a chance encounter with an art collector that alters their lives forever. Britt Robertson and Scott Eastwood lead the cast and give especially good performance, having great chemistry together. But the script is a bit of a problem, as the plot is over-stuffed; deliver two love stories for the price of one. And at times it can be a little emotionally manipulative. Yet while it has some issues, The Longest Ride is a compelling film about the power of love to overcome adversity.
Dann Michalski
Super Reviewer
½
In the long line of Nicholas Sparks novels, we usually get one every year and it comes and goes. For some reason, this one has been getting more word of mouth than most so I thought I would give it a try. I can say with all honesty, this is one of his better efforts by far. The pairing of Brit Robertson and Scott Eastwood was perfect and I bought their chemistry the whole way through. That is what made this film as good as it is. The one thing that kept taking me out of the film slightly was the fact that he keeps using plot points from his previous films, such as going to war or old people on the verge of passing away. Oddly enough, the filmmakers made all of these elements work it it really does tug at your heartstrings. "The Longest Ride" is much better than I was expecting it to be, and that is saying something. This is a well-made film all around with great performances. No it's not the most original film in the world, but it is a nice, watchable romance that I would be glad to pop in again.
Well, isn't Scott Eastwood just a rugged, squinty, sensitive, handsome drink of water? He isn't that bad an actor either - very dynamic and athletic while bull-riding and quietly choked when essentially admitting his lack of other options, "It's my life..." It's a schmaltzy moment, but he grounds it. Britt Robertson was precious in "Dan In Real Life" and arguably the best part of "Delivery Man," but her spirit is too wild and outgoing for "the boring one" in the sorority house, and this Regular Girl role requires her to tone down that spirit, making her performance...well, boring. Methinks brunette Melissa Benoist more fits the type of the straight-laced lead, and Robertson would have been better as the bubbly partygirl friend. The rest of the script is classic Sparks: new, uncertain relationship is fortified by the flashback story of an older relationship that stands the test of time. Ira and Ruth's love story - complicated by infertility and lack of faith - is infinitely more interesting than Sophia and Luke's banal first date small talk about nail polish. Oona Chaplin has a great period face, and Jack Huston is bashfully devoted. The art auction twist is a nice denouement, but overall, the movie is an overlong, forgettable Sparks joint.
Alice Shen
Super Reviewer
The Longest Ride Quotes
| | |
| --- | --- |
| Ira Levinson: | And in that moment, we both know that chance of life together was greater than the risk of being apart. |