The Lost
(2008)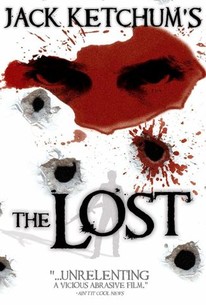 Movie Info
A charismatic psycho suspected of killing two innocent campers in a cold-blooded double homicide grows increasingly unstable as his suburban empire starts to crack at the foundations in director Chris Sivertson's adaptation of author Jack Ketchum's chilling take on the 1960s-era Charles Schmid murders. Ray Pye (Chris Senter) may be well out of high school, but the kids in his sleepy town are strangely drawn to the drug-dealing outsider who stuffs cans in his boots to boost his stature and sports pancake make-up to cast a rock-star aura. But Ray Pye isn't just eccentric, he's downright dangerous. It was during a weekend camping excursion with his sometime-girlfriend Jennifer Fitch (Shay Astar) and best pal Tim Best (Alex Frost) that Ray shot a pair of pretty campers simply to satisfy his own morbid curiosity, and after bullying his friends into silence, the case would go strangely unsolved. Despite the fact that one of the girls eventually managed to escape, she lay comatose in the hospital for months on end before eventually succumbing to her wounds. Local detective Charlie Schilling (Michael Bowen) suspected Ray of the crime from the very beginning, and now that the girl has died without being able to identify her killer, Schilling is determined to ensure that justice is served. These days the womanizing Pye has turned his attentions away from Jennifer and toward newly arrived rich girl Katherine Wallace (Robin Sydney) and innocent Sally Richmond (Megan Henning) -- a recent high-school graduate who, unbeknownst to Ray, is involved in a tender May-December romance with retired cop Ed Anderson (Ed Lauter). Now, as Katherine and Sally reject Ray's advances, and Tim and Jennifer's once undying loyalty begins to slip, the increasingly unstable pied piper's fragile ego spirals into an explosive tailspin. With the rage that's bubbling up in Ray threatening to send him on a murderous rampage, Detective Schilling and Ed Anderson desperately attempt to gather the evidence needed to arrest the swaggering psychopath before more lives are lost.
Critic Reviews for The Lost
Audience Reviews for The Lost
Jack Ketchum is a famed horror novelist, but as far as turning his stories into film is concerned, so far, it hasn't been very successful. The only film based on his writing that I enjoyed, was The Offspring. The most recent one I watched, The Lost, was by far his worst. The story is about two detectives following a guy they know is a budding serial killer, a man who they suspect in a previous crime. With no evidence against him all they can do is watch him. First off this film is very slow moving, to point where I almost turned it off. Second, the main character, Ray (Marc Senter), is a complete and utter moron. I don't know if the character was written that way or if the actor playing him was just that bad, but this guy was not believable at all! The story is rather hard to follow as well, mainly because throughout it, people just keep making statements about what they've seen or what they know, without providing those same details to the audience. Isn't the point of a good mystery to make the audience think and figure things out for themselves instead of just having someone tell them everything? This movie was slow, poorly acted, and on top of that just plain stupid! Don't waste your time on it.
Todd Smith
Super Reviewer
½
THIS IS NOT NECESSARILY HORROR. Best described as "Blue Velvet"-like, this is a character-study drama bookended by brutally violent murders. The main character is the killer - the bookends are what is his supposed first time killing people and the end is the massacre that ended him. In between, the violence, the audience spends their time waiting for mc Ray to explode, analyzing his reactions to see who it is and why it is he will finally kill again. This would be a brilliant film if the acting was more on point. The lead plays the dual ends well of the smiling charmer and then the shouting psycho, but he can't do anything in between those two extremes and struggles in "normal" moments of relationship building that most actors would do breezily. He is just awkward with the commonplace; the melodramatic is where this guy shines. For the rest of the cast, the acting is mixed and most of them are more capable than the lead. No one's ruining the movie, but no one is stealing the show with a killer performance, either. This film is marketed wrong because it has the Jack Ketchum attachment (this is a direct adaptation of his novel of the same title), it is branded as a horror title. It has a serial killer at the center, but this is very much a crime drama/mystery and the makers are clearly attempting at some time to give it an art-house stamp. It's not bad, it's just very slow and unsucessfully executed. For gore fans, I do recommend that you watch the beginning and then skip to the final 15 minutes. An dplease just trust me, you are NOT missing any meaningful or believable character development.
_kelly .King
Super Reviewer
½
Based on the Book by Jack Ketchum. This movie starts off with a Blast, a real Blast, Ray Pye who is played by Marc Senter, Is in the woods partying with two friends when he happens to come across a naked girl coming out of a out house, he follows her to a river bank where she is sunning with a friend, Ray believes the two girls are Lesbians and returns that night and shoots them. Wush were are thrown into 4 years later, no one has been arrested for the killing of the 2 girls, but one not so smart detective has been on Ray's case for the past 4 years and knows Ray is the killer, Ray is the Assistant manager of his Mom's Motel, he is a cross between Elvis and James Dean, he has to put crushed beer cans in his boots to make himself look taller. The ending has about the most brutal killing scene I have seen in a long time. This was part of the 2006 Screamfest Film Festival. Its worth the rental, might even be worth the by at a pawn shop, but stay away anything more the $7.98. 3 1/2 stars slasher fans.
Bruce Bruce
Super Reviewer
The Lost Quotes
There are no approved quotes yet for this movie.