The Love Parade
(1929)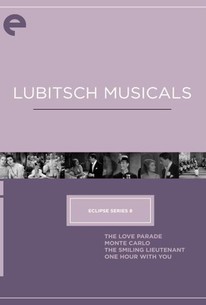 Movie Info
An arranged royal marriage between a womanizing diplomat and the forlorn Queen of a small European country results in farcical dissatisfaction for both until true love somehow manages to blossom between them. Ernst Lubitsch's first all-talking movie also marked the initial teaming of it's two highly vocal leads.
Critic Reviews for The Love Parade
Audience Reviews for The Love Parade
Ernst Lubitsch's first talkie, Jeanette MacDonald's first screen appearance, and the first of many time these two would make movies with Maurice Chevalier. Lubitsch with his cinematographer managed to keep the camera moving through the grand set, which was something that most early talkie/musicals could not deliver. This film is a joyful romantic comedy. The battle of the sexes will still make you chuckle. The added comic relief, well not relief but zingers, of butler Jacques (Lupino Lane) and maid Lulu (Lillian Roth) were highly enjoyable. MacDonald is a regal, spoiled Queen. Chevalier is a scampish, charming Count (the model for the skunk Pepe Le Pew). There are grumpy cabinet members arguing over policy in the fictional country of Sylvania. Of course their main concern is finding the Queen a husband to subdue her moods and demands. And the Count loves the challenge of seducing the Queen. At first he is content with the gender reversal as he lounges around the palace while his wife goes to work making big decisions, but then like the cabinet members he turns quite sexist in insisting that she let him take more control. With impeccable comic timing and lilting melodies this famous screen couple leads the viewer through a love parade.
Byron Brubaker
Super Reviewer
I am really a fan of the Chevalier films. They have a modern quality despite the fact that they exist at the beginning of the film making era. Here we have a comedy of errors that is not tacky and speaks to genuine feelings.
John Ballantine
Super Reviewer
lubitsch's first sound film and the first hollywood musical with integrated songs, it's delightful to watch and remarkably modern for 1929. the gender swap and 'battle of the sexes' themes would soon become de rigueur and the film's stars, chevalier and jeanette macdonald would have long careers in hollywood musicals
Stella Dallas
Super Reviewer
The Love Parade Quotes
There are no approved quotes yet for this movie.