The Lovers (Les Amants)
(1959)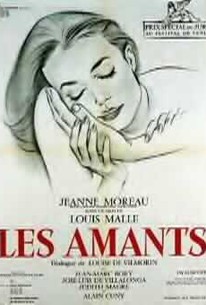 Movie Info
The Lovers (Les Amants) furthered the reputations of both director Louis Malle and star Jeanne Moreau -- and also pushed the boundaries of American censorship (1959 vintage) to the breaking point. Moreau plays a humdrum housewife whose life brightens considerably when she meets a handsome young archeologist (Jean-Marc Bory). The two enjoy an exquisite evening in the boudoir, and when comes the dawn, Moreau has gained a whole new outlook on things. She abandons her family in favor of Bory, even though neither has the slightest notion of what the future will hold. The Lovers gained notoriety upon its first release as the Movie With the Nude Scene: though a model of decorum by today's standards (the most suggestive moment is a shot of Moreau's hand falling limply on the bedsheets), the scene provided fodder for outraged guardians of public morals for several years. One hapless Cleveland theatre owner was arrested on an obscenity charge, a case that went all the way to the Supreme Court. The Venice Film festival took a more liberal stance on the matter, awarding The Lovers a special jury prize. ~ Hal Erickson, Rovi
Critic Reviews for The Lovers (Les Amants)
Audience Reviews for The Lovers (Les Amants)
½
I'll start by saying this is a gorgeous film, with many beautiful scenes and fantastic 'New Wave' direction from Louis Malle. Jeanne Moreau plays a married woman with a disinterested husband (Alain Cuny), and, bored after 8 years of marriage, pursues an affair with a polo player (José Luis de Vilallonga). She does it under the guise of visiting her friend (Judith Magre) in Paris. This get a little ticklish when her husband starts to tire of the charade, and demands that she invite the two of them to dinner at their mansion in Dijon. The romantic tension in the film is palpable, and it's chic and stylish in its exploration of the age old theme of human relationships. There is an additional character who comes on the scene of Moreau's car breakdown (Jean-Marc Bory) who provides the film a voice for criticism about French society and the bourgeois. There is an extraordinary change of pace in what happens that night, but I won't spoil it, and it's best to not know what's coming when seeing this film for the first time. I'll just say that it enters a bit of a dreamlike and surreal haze, but as anyone who has ever been passionately in love will attest, that haze is quite realistic. In one highly charged scene, Moreau's lover goes down on her, which is bit shocking for 1958, a time when Hollywood by contrast was mired in the Hays Code and had married couples sleeping in separate beds. And yet it's tastefully and beautifully done, which is perhaps that's why Supreme Court justice Potter Stewart so famously said of this film that it was not pornography, because "I know it when I see it, and the motion picture involved in this case is not that." Indeed. There is a lot to love here. Moreau is wonderful, so beautiful and conveying so much emotion with her eyes. The acting is strong throughout, and the film still feels like a 'fresh voice' almost 60 years later. It's very romantic and yet honest at the same time, which is not easy. Great film.
Antonius Block
Super Reviewer
Louis Malle's first feature is more conservative than the typical French New Wave classic, but it's an impressive, polished debut. The glaring problem is that the first half is far more interesting than the second. We're introduced to Jeanne (Jeanne Moreau, back when she could still pass for "girlish"), a bored, neglected wife married to a wealthy newspaper publisher. She escapes her joyless life with steady trips to Paris, where she sees her socialite friend Maggy and a polo-playing paramour. The subtle tensions between these characters are engrossing, but the film sinks once Jeanne meets another man and the story turns into a gooey, dreamy-eyed romance based on no obvious chemistry or motive. "The Lovers" was quite controversial in its day, due to a late sex scene where Moreau's expression of ecstasy suggests some intimate stimulation below. Oh, and there are a few flashes of nipple too. But it's all very tame by contemporary standards.
Eric Broome
Super Reviewer
jeanne moreau is intriguing to watch. fascinating exploration of the bourgeois and immensely bored. the plot was way ahead of its time -- interesting that this was filmed in the late 50's
Stefanie C
Super Reviewer
The Lovers (Les Amants) Quotes
There are no approved quotes yet for this movie.