The Loving Story
(2012)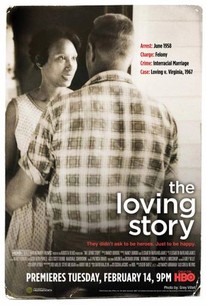 Movie Info
This Oscar-shortlisted film is the definitive account of the landmark 1967 Supreme Court decision that legalized interracial marriage: Loving v. Virginia. Married in Washington, D.C. on June 2, 1958, Richard Loving and Mildred Jeter returned home to Virginia where their marriage was declared illegal-he was white, and she was black and Native American. Hope Ryden's luminous, newly discovered home movie footage of the Lovings and their feisty young lawyers and rare photography by Grey Villet are stitched together in the debut feature by Full Frame Documentary Film Festival founder Nancy Buirski in a film that takes viewers behind the scenes of a pair of unlikely civil rights pioneers and their real-life love story.
Critic Reviews for The Loving Story
Audience Reviews for The Loving Story
A powerful bit of history everybody should know. A very well put together documentary.
Christian C
Super Reviewer
½
"The Loving Story" is an insightful and informative documentary about the landmark Supreme Court decision Loving v. Virginia, which invalidated anti-miscegenation laws across the country and would eventually pave the way for same sex marriage. The story starts simply enough with Mildred Jeter and Richard Loving getting married in the District of Colombia in 1958, due to their native Virginia outlawing interracial marriage. After returning, they were arrested and convicted under the state's Racial Integrity Act, and under a suspended sentence, were told to leave the state. In 1963, Mildred wrote then Attorney General Robert Kennedy to inquire if any of the current civil rights legislation would apply to them. He said no, maybe they could try the ACLU... One of the highlights of "The Loving Story" is listening to audio recordings of Supreme Court arguments which I had never heard before.(One of the lawyers says being in front of the Supreme Court was like looking in the face of God.) While I normally don't favor the approach of relying on archival and previously shot documentary footage, here it works well to let us not only get to know the couple at the heart of the case but also what it was like to live in a time and place that was a lot more complicated than any of us had been led to believe.
The Loving Story Quotes
There are no approved quotes yet for this movie.