The Lunchbox
(2014)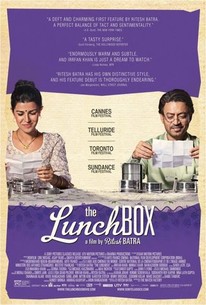 TOMATOMETER
AUDIENCE SCORE
Critic Consensus: Warm, affectionate, and sweet but not cloying, The Lunchbox is a clever crowd-pleaser from first-time director Ritesh Batra.
Movie Info
Middle class housewife Ila is trying once again to add some spice to her marriage, this time through her cooking. She desperately hopes that this new recipe will finally arouse some kind of reaction from her neglectful husband. She prepares a special lunchbox to be delivered to him at work, but, unbeknownst to her, it is mistakenly delivered to another office worker, Saajan, a lonely man on the verge of retirement. Curious about the lack of reaction from her husband, Ila puts a little note in the following day's lunchbox, in the hopes of getting to the bottom of the mystery. This begins a series of lunchbox notes between Saajan and Ila, and the mere comfort of communicating with a stranger anonymously soon evolves into an unexpected friendship. Gradually, their notes become little confessions about their loneliness, memories, regrets, fears, and even small joys. They each discover a new sense of self and find an anchor to hold on to in the big city of Mumbai that so often crushes hopes and dreams. Still strangers physically, Ila and Saajan become lost in a virtual relationship that could jeopardize both their realities. (C) Sony Classics
Critic Reviews for The Lunchbox
Audience Reviews for The Lunchbox
½
A warm, melancholy drama that enchants and moves us even more thanks to the way that its three-dimensional characters reveal so much about themselves between the lines - and it is only a pity, though, that it drags a bit in the third act and ends in a rather frustrating conclusion.
Carlos Magalhães
Super Reviewer
½
A neglected housewife starts a correspondence with a widowed accountant nearing retirement when he is mistakenly delivered the special lunch she made to impress her distant husband. More interesting to Westerners for its peek at the lives and customs of average residents of modern day Mumbai than it is for its ordinary (though well-acted) drama. If this story was set in (say) Seattle, it would be a hopeless bore.
½
For a movie that relies heavily on the seductive qualities of food, The Lunchbox rarely dwells on the culinary delights prepared. It's hard not to think the filmmakers missed a golden opportunity to seduce the audience with the wonders of Indian cuisine. After all, in this parable food speaks louder than words ever could. What we do get is a nice romance that unfolds in a very delicate and deliberate manner. Ila is melancholy but radiant. Saajan is a stoic sourpuss. Both mature as a result of knowing each other. There's real drama in their interaction. At times it's so subtle and precious, we have to fill in the blanks as to what people are feeling. This translates into what they ultimately do. I won't spoil the conclusion, but it's as if the screenwriters think a tidy resolution is too predictable. Still, there's a lot to love, particularly the sensitive relationship that evolves among the principals. It's just that the desultory ending is a serious letdown after such a promising buildup. I found it frustratingly unsatisfying. The finish left me hungry for more. fastfilmreviews.com
Mark Hobin
Super Reviewer
The Lunchbox Quotes
| | |
| --- | --- |
| Saajan Fernandes: | You are young. You can dream. And for some time you let me into your dreams. And I want to thank you for that. |
| | |
| --- | --- |
| Saajan Fernandes: | But I had two bananas after lunch....I think it will be good for the motion. |
| | |
| --- | --- |
| Saajan Fernandes: | Dear Illa the food was very salty today. |
| | |
| --- | --- |
| Shaikh: | "The wrong train can take you to the right station." |