The MacKintosh Man
(1973)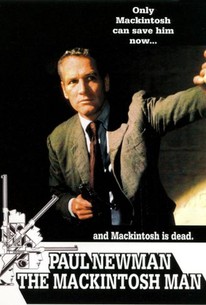 The MacKintosh Man Photos
Movie Info
John Huston directed this cold war spy thriller (from a script by Walter Hill) concerning a British agent trying infiltrate the organization of a nefarious communist spy. Paul Newman is Joseph Reardon, a British secret agent commissioned by Mackintosh (Harry Andrews) to impersonate a jewel thief. When the police are tipped off about his diamond robbery, Reardon is arrested and shipped off to a high-security prison. At the prison, he meets a convicted Russian spy and the two are involved in a prison break, arranged by a mysterious group called the Scarperers. After the successful breakout, Reardon finds himself drugged and sent to Ireland. It turns out that the escapade was organized by Mackintosh in the hopes Reardon could infiltrate the Scarperers and gather information on the group's leader, Sir George Wheeler (James Mason), and prove him to be a Russian spy.
Critic Reviews for The MacKintosh Man
Audience Reviews for The MacKintosh Man
Paul Newman's attempt to do a James Bond movie?
Sean Gillespie
Super Reviewer
A "British" intelligence agent sniffs out corruption undercover. John Huston's thriller is slow moving and almost blithe in its action, acting, and direction. it is almost as though all involved - audience and filmmakers - know what is going to happen, so there is little commitment in the execution. What is more, Paul Newman's "British" accent is so inconsistent that it sounds dubbed in some parts and like Paul Newman in others. There's no real plot-based need for him to be British, but like I said, it doesn't seem like much thought was put in to the story and acting. Overall, this isn't a terrible film, but it certainly doesn't radically engage.
Jim Hunter
Super Reviewer
It's sort've odd to hear Paul Newman with an Australian accent and not his usual charismatic self, but this is still a very interesting career move for him and it just shows his wide range. I really like the prison/escape scenes and just the overall feel. Even though it doesn't become more than a semi-James Bond, it's fun enough to stand on its own.
Conner Rainwater
Super Reviewer
The MacKintosh Man Quotes