The Madmen of Mandoras (Amazing Mr. H )
(1963)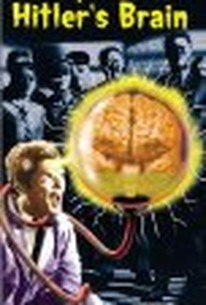 AUDIENCE SCORE
Critic Consensus: No consensus yet.
Movie Info
Science goes too far as one of the greatest villains of the 20th century makes a last stand in South America in this crackpot thriller. After government scientists develop a new and virulent variety of nerve gas, Professor John Coleman (John Holland) sets out to create an antidote until he mysteriously disappears. Coleman's daughter Kathy (Audrey Caire) and her husband, Phil Day (Walter Stocker), who works in U.S. intelligence, begin to suspect foul play; they're approached by a man named Teo (Carlos Rivas) who is trying to tell them about the professor and a strange place called Mandoras when he's suddenly shot to death. With no other clues to follow, Kathy and Phil travel to the tiny Latin American nation of Mandoras, where Kathy happens to meet her hepcat sister, Suzanne (Dani Lynn), at a nightclub. Suzanne tells Kathy and Phil that she and the professor had been kidnapped, and when they're introduced to Teo's brother Camino (also played by Rivas), they learn of a bizarre plot. According to Camino, scientists in a secret lab on Mandoras have kept the disembodied head of Adolf Hitler (Bill Freed) alive in a jar, and under the orders of "Mr. H" they're engaged in a deadly scheme to take over the world and resurrect the Third Reich. The film Madmen of Mandoras received a brief theatrical release in 1963; later, when it was sold to television, the movie (running a brief 74 minutes) was padded with additional sequences, reported shot by a group of film students, that feature a completely different cast and don't at all resemble the shadowy visual style of the original movie. The strange variant television cut of the film gained a cult following under its title, They Saved Hitler's Brain.
Critic Reviews for The Madmen of Mandoras (Amazing Mr. H )
There are no critic reviews yet for The Madmen of Mandoras (Amazing Mr. H ). Keep checking Rotten Tomatoes for updates!
Audience Reviews for The Madmen of Mandoras (Amazing Mr. H )
The original version of They Saved Hitler's Brain, entitled The Madmen of Mandoras, isn't much better than its re-edited counterpart. The added scenes certainly didn't help the re-edit of the film... it was just bad to begin with. There are no recognizable actors (to me anyways) and the story is pretty humdrum. However bad it may be, it does have some unintentional comedic value. The scene where one of the rebels tells of Hitler's experiments is particularly bad. Watching an actor waiting for his next cue to deliver dialogue is a hoot to see. This actually came in a set with the re-edit, and since I haven't watched They Saved Hitler's Brain in a while, I may watch it again soon for a proper comparison between the two versions. Overall, it's not at all good, but it does have some funny things about it that makes it worth at least one watch.
Tim Salmons
Super Reviewer
This was really weird. I couldn't get into it and I wouldn't watch it again.
Sarah Prisbylla
Super Reviewer
½
Madmen of Mandoras is not the movie They Saved Hitler?s Brain, the poster is incorrect in this Movie Review. Anyway this is a pretty wild movie, Hitler?s head is in a jar and people take orders from it. Its a good old Black & White film, best part is near the end when the Brain is in a car, reminded me of a Laurel and Hardy type movie. You can see the feelings left over from WWII in this movie, don't see this today with movies about Sadam Hussian or any of the current threats to the world. My Copy Came in the Drive-In Cult Classics Vol 2. 8 movies in total at a good price, best way to see these type movies.
Bruce Bruce
Super Reviewer
The Madmen of Mandoras (Amazing Mr. H ) Quotes
There are no approved quotes yet for this movie.