The Man Who Killed Hitler and Then The Bigfoot
(2019)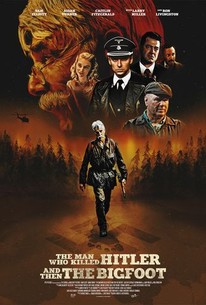 TOMATOMETER
AUDIENCE SCORE
Critic Consensus: The Man Who Killed Hitler and Then the Bigfoot just about lives up to the wild promise of its title, due in no small part to Sam Elliott's world-weary work in the title role.
The Man Who Killed Hitler and Then The Bigfoot Videos
The Man Who Killed Hitler and Then The Bigfoot Photos
Movie Info
THE MAN WHO KILLED HITLER AND THEN THE BIGFOOT follows the epic adventures of an American legend that no one has ever heard of. Since WWII, Calvin Barr (Elliott) has lived with the secret that he was responsible for the assassination of Adolf Hitler. Now, decades later, the US government has called on him again for a new top-secret mission. Bigfoot has been living deep in the Canadian wilderness and is carrying a deadly plague that is now threatening to spread to the general population. Relying on the same skills that he honed during the war, Calvin must set out to save the free world yet again.
News & Interviews for The Man Who Killed Hitler and Then The Bigfoot
Critic Reviews for The Man Who Killed Hitler and Then The Bigfoot
Audience Reviews for The Man Who Killed Hitler and Then The Bigfoot
Iâ(TM)ve always been a fan of films that take existing myths or legends and turns them into something that feels realistic; However, a brain can only suspend so much disbelief before it becomes stupid. Thankfully, in the case of The Man Who Killed Hitler And Then The Bigfoot, it takes itself seriously 100% of the time, while hoping the audience knows that this premise is stupid deep down. I had many mixed emotions watching this film, but Iâ(TM)m surprisingly going to give this film quite a good recommendation. Hereâ(TM)s why, even though almost too strange for some viewers, I think The Man Who Killed Hitler And Then The Bigfoot is worth a watch. Firstly, having your film led by the amazingly talented Sam Elliott is always a plus. His performances always elevate the material, no matter how good or bad it actually is. That being said, itâ(TM)s how serious and committed he is to this character that really had me enjoying this film as a whole. The premise is as simple as a man who killed Hitler back in World War II, who is now living a lonely simple life as an elderly man, is recruited to hunt down and kill Bigfoot. The notion of this being a a film with a tone that takes its premise seriously is preposterous, but if you can leave that behind you, this is a fantastic character study. Yes, this is a plot that will turn many viewers off and the finale of the film does go a little off the rails, but this character in Calvin Barr really had me engaged. From his romantic past to how he behaves nowadays, I was immersed in this manâ(TM)s lifestyle. The dialogue felt like something written for a dramatic Oscar-contender at times and Elliottâ(TM)s devotion to this character sold that aspect even more. From the sombre first act to the turn of events in the second, I was prepared for anything in the third, but it didnâ(TM)t quite live up to the promise, at least not entirely. The third act of this movie is pretty much what you would expect it to be, given the ridiculous title, but the way things are handled and quickly edited together to wrap everything up felt like a letdown. There are multiple spots this film could have chosen to end, but it felt like it kept on going. This is where I found my largest gripes with the movie. Itâ(TM)s almost as if this script was written and someone continued to give their input towards how the film should really end. Due to this, I was losing interest throughout the final 20 minutes. In the end, The Man Who Killed Hitler And Then The Bigfoot is a far more enjoyable film than I was expecting it to be. It embraces the title in a way I wasnâ(TM)t expecting and could easily work as a dramatic character study for those who just enjoy Sam Elliottâ(TM)s performances. The third act will absolutely lose many viewers, but I bought into it enough and had some fun with it. As a whole, this is a very, very solid movie that I would recommend checking out. Just know that itâ(TM)s two genres melded together to form a wacky experience and you should be fine.
The Man Who Killed Hitler and Then The Bigfoot Quotes
There are no approved quotes yet for this movie.