The Man Who Knew Too Much
(1956)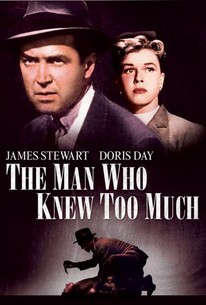 TOMATOMETER
AUDIENCE SCORE
Critic Consensus: Remaking his own 1934 film, Hitchcock imbues The Man Who Knew Too Much with picturesque locales and international intrigue, and is helped by a brilliantly befuddled performance from James Stewart.
The Man Who Knew Too Much Photos
Movie Info
The debate still rages as to whether Alfred Hitchcock's 1956 remake of The Man Who Knew Too Much is superior to his own original 1934 version. This two-hour remake (45 minutes longer than the first film) features more stars, a lusher budget, and the plaintive music of Bernard Herrmann (who appears on-camera, typecast as a symphony conductor). Though the locale of the opening scenes shifts from Switzerland to French Morocco in the newer version, the basic plot remains the same. American tourists James Stewart and Doris Day are witness to the street killing of a Frenchman (Daniel Gelin) they've recently befriended. Before breathing his last, the murder victim whispers a secret to Stewart (the Cinemascope lens turns this standard closeup into a truly grotesque vignette). Stewart knows that a political assassination will occur during a concert at London's Albert Hall, but is unable to tell the police: his son (a daughter in the original) has been kidnapped by foreign agents to insure Stewart's silence. The original script for Man Who Knew too Much was expanded and updated by John Michael Hayes and Angus McPhail. ~ Hal Erickson, Rovi
Critic Reviews for The Man Who Knew Too Much
Audience Reviews for The Man Who Knew Too Much
Top notch Hitchcock film. Gotta love the Cold War if Dorris Day's in it!
Christian C
Super Reviewer
½
This is Alfred Hitchcock doing a remake of one of his own films from early on in his career, and it's an interesting choice. The original was a slick, fun little thriller in its own right, and it really helped set the standard for the bulk of his career from then on. This time around though, the telling of the storyt is a lot more polished, more artistic, and 45 minutes longer. Both films are great, but this one is the stronger of the two, but by how much is really up for debate. It's the usual Hitch story: family goes on vacation, meets interesting people, and they get caught up in situations they aren't prepared for, and are in way over their heads. To top it off, the family can't do much since their son has been kidnapped as a way of threatening them, so not only do they need to try to stop an assassination, they need to get their son back. As I said, this version is a lot more slick and polished. The sets and costumes look great ,AStewart is solid as always, and it's really ncie seeing Doris Day do something dramatic. The film is a mixture of suspense thriller and comedy, and it sometiems works well, but on the other hand, it is fairly uneven at times, and it seems like the film can't make up its mind about which tone to stick with. Also, the film si pretty dated with the rather un PC way characters deal with race and culture, but hey, that's the 50s for you. Nevertheless, this is an exciting film that never fails to hold one's attention, and there's some excellent sequences, most notable being the 14 minute or so sequence at Royal Albert Hall that is done with no dialogue, and relies soley on music and visuals to build tension and suspense. It's a real showstopper. All in all, this is required viewing for fans of the genre, and especially fans of Hitch. The original should also be checked out, as it's a real joy as well.
Chris Weber
Super Reviewer
½
One of my favorites from Hitchcock. Jimmy Stewart, as always, gives his all and the Vista Vision technology is used to it's fullest. Also, Doris Day puts in her best performance.
Graham Jones
Super Reviewer
The Man Who Knew Too Much Quotes
| | |
| --- | --- |
| Foreign Prime Minister: | Delighted, delighted, delighted. |
| | |
| --- | --- |
| The Ambassador: | You have muddled everything from the start, taking that child with you from Marrakesh. Don't you realize that Americans dislike having their children stolen? |