The Man With the Golden Arm
(1955)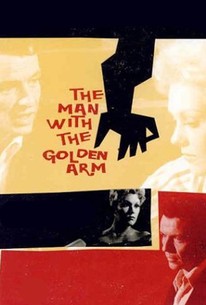 TOMATOMETER
AUDIENCE SCORE
Critic Consensus: The Man with the Golden Arm is a difficult watch, but it's held together by Frank Sinatra's impressively committed work in the title role.
The Man With the Golden Arm Photos
Movie Info
When Otto Preminger was willing to release his drug-addiction drama Man With the Golden Arm without the sanction of a Production Code seal, it proved to be yet another nail in the coffin of that censorial dinosaur. Based on the novel by Nelson Algren, the film stars Frank Sinatra as Frankie Machine, expert card dealer (hence the title). Recently released from prison, Frankie is determined to set his life in order -- and that means divesting himself of his drug habit. He dreams of becoming a jazz drummer, but his greedy wife Eleanor Parker wants him to continue his lucrative gambling activities. Since Parker is confined to a wheelchair as a result of a car accident caused by Frankie, he's in no position to refuse. Only the audience knows that Parker is not crippled, but is faking her invalid status to keep Frankie under her thumb. Gambling boss Robert Strauss wants Frankie to deal at a high-stakes poker game; terrified that he's lost his touch, Frankie asks dope pusher Darren McGavin to supply him with narcotics. When McGavin discovers that Parker is not an invalid, she kills him, and Frankie (who is elsewhere at the time) is accused of the murder. He is willing to go to the cops, but he doesn't want to show up with drugs in his system. So with the help of sympathetic B-girl Kim Novak, Sinatra locks himself up and goes "cold turkey"-a still-harrowing sequence, despite the glut of "doper" films that followed in the wake of this picture. After Parker herself is killed in a suicidal fall, the path is cleared for Frankie to pursue a clean new life with Novak.
News & Interviews for The Man With the Golden Arm
Critic Reviews for The Man With the Golden Arm
Audience Reviews for The Man With the Golden Arm
the film that changed the production code; it's hard to imagine the impact this must have had on movie audiences in 1955. the novel's super bleak ending was changed to be somewhat moralistic but hipster cool, the driving jazz score, plus sinatra's knock out performance make up for that imo. even novak is great and she's never really impressed me
Stella Dallas
Super Reviewer
Decent but not great movie about a ex-junkie and how he got sucked back into his habit. I'm not a Sinatra fan, but he did OK as heroin addict Frankie Machine. The title refers to Johnny's job, which is a card dealer for illegal card games. Eleanor Powell plays Johnny's wife, who is in a wheelchair because of an accident that was Johnny's fault. Kim Novak plays Johnny's mistress with her usual stiff as a board portrayal (I'm not a Novak fan either) . I'm so used to Eleanor Powell playing strong women, that seeing her playing a weakling (although not as weak as she first appears...heheh) was interesting. Her performance reminded me a great deal of Joan Crawford in Whatever Happened to Baby Jane, which wouldn't be for another seven years. Could Joan have based her protrayal on Powell's? My main complaint about this film is that it seems to be two films edited together. We have the carddealer/heroin addict story, and then we have the love triangle between Johnny, his crippled wife and Molly. They only slightly seem to be connected. I can't say that this film made me any more of a fan of either Sinatra or Novak, but I don't consider it a waste of time either.
This is basically an overwrought melodramatic depiction of hard drug abuse (one of the first in cinema, I believe). It's a little tame by today's standards, but it features really good performances and an excellent score by Elmer Bernstein. I give it a B-.
Chris Weber
Super Reviewer
The Man With the Golden Arm Quotes
| | |
| --- | --- |
| Louis: | "...I just go berserk...!" |
| Louis: | I just go berserk! |
| | |
| --- | --- |
| Louis: | "I'm not fearing any man..." |
| Louis: | I'm not fearing any man... |
| Louis: | "I may not get there with you..." |
| Louis: | I may not get there with you... |