The Master
(2012)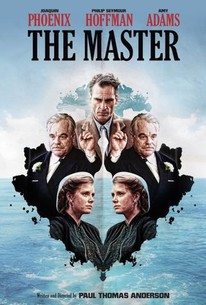 TOMATOMETER
AUDIENCE SCORE
Critic Consensus: Smart and solidly engrossing, The Master extends Paul Thomas Anderson's winning streak of challenging films for serious audiences.
Movie Info
A striking portrait of drifters and seekers in post World War II America, Paul Thomas Anderson's The Master unfolds the journey of a Naval veteran (Joaquin Phoenix) who arrives home from war unsettled and uncertain of his future - until he is tantalized by The Cause and its charismatic leader (Philip Seymour Hoffman). -- (C) Weinstein
Critic Reviews for The Master
Audience Reviews for The Master
Freddie specializes in creating cocktails from anything he can get his hands on, be it torpedo propellent, photography chemicals, fertilizers, or paint thinner. His dad killed himself with alcoholism, he long lost his mom to a mental institution, and now he's just come home from the experience of killing other men in WWII. He copes with these traumas by staying inebriated, and yet the pain still drives him to violence. Yet Master Dodd, who tells readers in his cult book that man is not an animal and must do away with emotional impulses (and farting), sees more inspiration in Freddie than weakness. While being told to repent of animal instincts, Freddie is busy writing a note to the pretty woman sitting across from him: "Do you want to ****? :-)." Dodd is envious of Freddie's free and honest nature, beholden to no one, and most importantly, wholly unashamed of his animalistic self. Freddie, who apparently has missed out on experiencing an affectionate, intimate friendship, becomes Dodd's personal bartender and loyal protector against the world who challenges Dodd's ideas. It becomes apparent that the Master, the wise seer of truth, is himself a slave to two other dueling masters - booze loosens his strings, and his latest wife pulls them taught. Mrs. Dodd sees their fearless family friend as a threat to her dreams of success, and the Master has to find a reason to keep his song bird around. This reason, perhaps genuine or perhaps selfish, does do Freddie a service. What happens next teaches Freddie self control and the ability to soberly deal with his life's pain head on, eye to eye, without so much as flinching. What does a sober, functioning, and centered Freddie look like? What does he do with himself? What does he want? That's for you and the Master to find out.
Matthew Slaven
Super Reviewer
Phoenix and Hoffman are absolutely brilliant in this long yet rewarding film that handles its subject matter with the right balance of artfulness, intelligence, and intensity. Hoffman proves once again that he is the greatest actor of his generation.
Matthew Samuel Mirliani
Super Reviewer
With complete bias, Paul Thomas Anderson is one of the best directors of all time, and he tackles strong and completely entrancing subjects that always seem to make the viewer watch the decline of a young and promise filled man. The main, and most volatile character of the film, is Freddie Quell (Phoenix), a veteran in post-World War II America, trying to understand the shambles of his life while also fighting against it without much luck. The "fever dream" setting, intermingling with the bright cinematography, and principle photography, and the time period, made the film look and feel vivid. The first shot of the ocean as the battleship cruised along, looked like true beauty, as does most of the film. While "There Will Be Blood" also looked impressive, it was distinguished by a gritty texture and robust characters. "The Master" is much more subdued, and therefore has a more plaintive and beatific look. Freddie is much more salt of the earth than the man who saves him, but you never know whether or not to root for him, because we never know whether his actions are just, whether he's an angry soul who cannot be saved, or the beliefs of "The Cause" are real and will help him. The counterpart to Freddie's character is Lancaster Dodd (Hoffman) who leads "The Cause" and owns the boat that Freddie stows away on, one drunken night. Their relationship is what really fuels the film, because though Phoenix gives an almost intractable performance, Hoffman is just as ravenous and power hungry. What makes the film watchable, as well as strong, is the interplay between the two, who seem to have a somewhat honest relationship; until the true nature of who Lancaster is surfaces for the audience. It's not surprising to find that these humble people who take in a drifter without judgment turn out to be cult leaders, but the way it's built up truly makes for an interesting watch. "The Cause's" structure and belief systems work themselves into the plot nicely, and lend to some grandstanding speeches from Lancaster, and scenes that defy time. What doesn't seem to come so easily for the film is what it's trying to say. At times it feels invigorating to watch the playful way Lancaster feeds his revelations to an awaiting audience, but when it's all said and done nothing comes from this film. Is it a commentary on Scientology and cult religions in general, a character study of Freddie, or of his relationship with Dodd? It's still an interesting and beautiful film, it's just hard to love without a fast paced plot and likable characters. This is an actor's film, which is why all the award nominations went to the cast, so it has nothing to do with substance, just strength. It's not a film I would recommend unless you're a cinephile who's in love with Paul Thomas Anderson.
Spencer S.
Super Reviewer
The Master Quotes
| | |
| --- | --- |
| Lancaster Dodd: | If you leave me now, in the next life you will be my sworn enemy. And I will show you no mercy. |
| | |
| --- | --- |
| Lancaster Dodd: | What honor do you have? |
| | |
| --- | --- |
| Peggy Dodd: | You can't take this life straight, can you? |
| | |
| --- | --- |
| Freddie Quell: | Do you know how to get rid of crabs? |