The Memory Thief
(2007)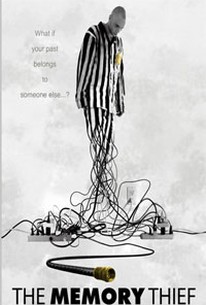 Movie Info
For Lukas (Mark Webber), an ambitionless, socially isolated tollbooth worker, each day is indistinguishable from the next -- filled, from the onset of work until the end of shift, with thousands of cars that slide through his station. Day in and day out, he must contend with the monotony of the work, the rage of the drivers, and the nauseating stench of exhaust. Lukas' life turns an odd corner when a bigoted driver haphazardly tosses a copy of Hitler's Mein Kampf into his booth in lieu of a fare; curious, Lukas retrieves the book and begins to comb through it, which catches the eye of yet another driver, this one a Holocaust survivor. Mistakenly inferring that the boy is a neo-Nazi, the gentleman passes Lukas a videocassette of his testimony about the Holocaust, produced by an organization that specializes in creating such films. Lukas not only takes this as a cue and seeks out the said organization to learn more about it, but (devoid of memories from his own past) begins to acquire a persistent delusion that he himself is both Jewish and a Holocaust survivor; in time, he becomes deeply emotionally involved and smitten with Mira Zweig (Rachel Miner), the attractive daughter of an actual survivor (Jerry Adler).
Critic Reviews for The Memory Thief
Audience Reviews for The Memory Thief
A curious piece wherein a aimless young man without much of a life finds himself by strangely identifying with Holocaust survivors ... their lives were taken from them, you see. What begins as a fancy, a whim, soon becomes an obsession, and the youngster slips into a kind of madness. My guess is that there is some sort of commentary here about the rootlessness of modern times. It certainly has moments that simultaneously ring true and are disconcerting.
Kevin M. Williams
Super Reviewer
The Memory Thief Quotes
There are no approved quotes yet for this movie.