The Merry Widow
(1925)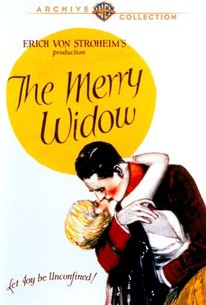 Movie Info
This silent adaptation of Franz Lehar's famous operetta (in which precious little of the original story was retained) was a rare event in Erich Von Stroheim's directorial career -- a critical and commercial success that the director was also able to complete according to his wishes (though in the latter years of his life, he would claim that the film's final moments were forced upon him by studio brass intent on a happier ending). Prince Danilo (John Gilbert) and Crown Prince Mirko (Roy D'Arcy) are two brothers in the Ruritanian royal family who are notorious womanizers, frequently finding themselves competing for the same woman. When Sally O'Hara (Mae Murray), a dancer from America, stops in Ruritania on a performance tour, both Danilo and Mirko are both strongly attracted to her, as is the older Baron Sadoja (Tully Marshall). Each begins making plans to seduce her; however, during Sally's performance, the differences between the three men become apparent -- Danilo is attracted to the beauty of Sally's eyes and face, while Mirko is strictly interested in her body, and Sadoja's intense focus is upon her feet. Danilo introduces himself to Sally after a performance as "Danilo Petrovich," claiming to be a wealthy commoner rather than royalty. He invites her to dine at his estate after her performance, and when he "mistakenly" spills soup on her dress, it's the first step in his successful efforts to lead her to his bed. Danilo asks Sally to marry him, and she agrees. To his surprise, Danilo finds that he is eager to settle down with the American dancer, but King Nikita (George Fawcett) and Queen Milena (Josephine Crowell) forbid him to marry a woman who does not carry a royal title, and Danilo is forced to leave Sally waiting at the altar. Seizing an opportunity, the aging Sadoja asks Sally for her hand in marriage, and she grudgingly accepts; he dies on their wedding night while ecstatically rummaging through her collection of shoes. Sally inherits Sadoja's estate and retains the title of Baroness, and a year later she encounters Danilo, who is still deeply in love with Sally and wants another chance to win her heart -- although since she never learned the truth about why he never arrived for their wedding, she is not eager to be wooed by him again. Mirko also re-enters the picture in a new effort to win Sally's affections, but while Danilo is motivated by true love, Mirko's efforts are fueled by lust, both for her body and her newly-gained wealth. The Merry Widow was a lavishly-staged production shot on a long schedule (19 weeks, very unusual for the time) with a large cast of extras. If you look carefully, you can spot Clark Gable and Myrna Loy among the bit players, several years before either would become a star.
Critic Reviews for The Merry Widow
Audience Reviews
There are no featured reviews for The Merry Widow at this time.
The Merry Widow Quotes
There are no approved quotes yet for this movie.