The Millionairess
(1960)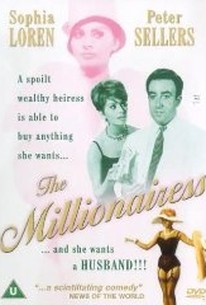 Movie Info
A beautiful and wealthy woman in the market for a husband believes she has found the right man -- only to discover he isn't especially interested, in this comedy based on a play by George Bernard Shaw. Epifania Parerga (Sophia Loren) is a woman who has inherited a vast fortune, making her the wealthiest woman on Earth. All Parerga really wants is a happy marriage, but her first stab at matrimony, with Alastair (Gary Raymond), is a disaster, and when she visits a psychiatrist in hopes of learning what she did wrong, her analyst, Dr. Adrian (Dennis Price), attempts to seduce her. Parerga is nearly ready to give up when she meets Dr. Ahmed el Kabir) (Peter Sellers), a shy and well-mannered Indian physician who operates a clinic for the underprivileged. While Kabir is personable, he seems to have no interest in Parerga's money and is unfazed by her beauty; convinced he can love her simply for who she is, Parerga decides Kabir is the man for her. However hard Parerga tries to throw herself at him, Kabir refuses to budge, and even after she bankrolls a new clinic for him, he does not respond to her advances. Eventually, Parerga offers Kabir a challenge -- she bets him that he can't triple his profits at his new clinic in three months, while he in turn wagers her that she cannot live without money for the same period of time. A spin-off of the The Millionairess was a novelty song called "Goodness Gracious Me", in which Sellers and Loren duetting as a doctor from India and his alluring patient; a recording of the tune became a hit single in the United Kingdom. ~ Mark Deming, Rovi
Critic Reviews for The Millionairess
All Critics (5) | Fresh (1) | Rotten (4)
One of the least memorable of Bernard Shaw's plays has been turned into a handsome but oddly sluggish film under the direction of Anthony Asquith...
The Millionairess is a bit of comic pastry that comes out too rich and soggy. It needed style and a light touch.
The stars help, but this should be so much better than it is.
August 29, 2006 | Rating: 3/5
Audience Reviews for The Millionairess
½
Sad to say, this is a disappointingly mediocre film. A 1960 romantic comedy starring Peter Sellers and Sophia Loren sounds like a surefire treat, but the two have little chemistry as actors and even less as the two characters they portray. Loren is a chic heiress, and Sellers is an altruistic Indian doctor. She becomes determined to win his love for reasons which must have been in the script's first draft, because they're certainly missing from the final product. The eventual plot gimmick is that the two give each other a test to prove their worthiness in marriage: He has to turn $500 into $15,000 within three months, and she has to live on a mere 500 rupees within the same period. However, the story takes far too long to arrive at this point, and once it does, the challenges are dispensed with far too easily. Really, the best reason to see this film is to ogle Loren's astonishing beauty -- and, yes, she has a couple of tame lingerie scenes. No doubt, "The Millionairess" is an obscenity compared to George Bernard Shaw play on which it is loosely based.
Eric Broome
Super Reviewer
If ever a film disproved the maxim that "the old ones are the best", The Millionairess is it. This irritating, star-ridden train-wreck of a film might have the visual glamour of Oliver! and My Fair Lady, but it carries none of the moral baggage or feel-good family appeal to balance out the fripperies. In this the glamour and the visuals are a thin and pathetic veil, designed to gloss over the film's shallow celebration of all things vain, self-centred and greedy. It takes a potentially edgy play by the great George Bernard Show, removes all the edges, misses every irony and thus creates a really unlikable piece of work. The central problem with The Millionairess is that the actors, writers and director simply don't have a handle on the source material. So many of Shaw's plays, but especially Pygmalion (from which we get My Fair Lady and a whole host of similar films), are about characters who undergo a radical transformation through the compassion of outsiders, making the world a better place for all concerned. Like his contemporary Oscar Wilde and successor Noël Coward, Shaw presented the concerns and customs of the rich and famous in extravagant detail with subtly satirical intentions. His plays poke fun at the idle rich and in doing so make deeper political points about the inherent flaws in British society. There is virtually none of this subtext, or subtlety, in The Millionairess. Certainly there is no great transformation that Sophia Loren's horrible character undergoes. She is frosty and unlovable from beginning to end, a spoilt brat with an irritating pout and smarmy gaze which does not so much seduce as repel. You simply don't care, and aren't made to care about her character, which is a major problem considering she's the lead. It doesn't matter how many tantrums she has or how many different hats she wears, we are never convinced that her character is in any way worth our time, our empathy, or our belief that she can change. Rather than being a socialist story of redemption through honest work and human compassion, this is a film which is totally in love with the ideas of capitalism, inequality, self-worth and privilege. The filmmakers clearly didn't get the irony of Shaw's work, and simply made a film which looked and sounded like a celebration of rich culture and industrial production over the selflessness of ordinary people. This is a film which is ultimately more interested in what the women are wearing than in the moral dilemmas which face the characters. There are at least three glimpses of Loren's stocking tops, along with two scenes of her disrobing and the infamous shot of her wearing 'that corset', perched on the doctors' couch. It's so shallow you'd swear you were watching Sex and the City. This becomes even more surprising, and insulting, when we find that the film is helmed by Anthony Asquith, who also directed Pygmalion, The Winslow Boy and The Importance of Being Earnest. How did a man of such clear talent drop the ball so far?! The answer is not immediately clear, although looking at his subsequent output he was certainly past his prime as a filmmaker. It may be due to the fact that Shaw mediated the other adaptations of his work, and that without that stern and guiding hand Asquith simply retreated into flashy convention. It is very difficult to put Peter Sellers on screen and make him unfunny, but Asquith manages it just fine. Sellers seems lost in the role of the Indian doctor, and he is given very little to work with beyond the odd half-decent scene (for instance, him handing out money in the street, a la The Magic Christian). Whereas Blake Edwards' The Party did something interesting with the Indian character, deriving comedy from good slapstick rather than simply the voice, here his 'Indian-ness' serves as a lazy shorthand for his selfless nature and nothing more. It's as though the director listened to the Indian characters on The Goon Show, removed all the jokes and put Sellers on screen. The film occasionally tries to bring up religion to justify its choice, but in the end it doesn't seem to care, preferring to focus on Loren's latest slightly see-through gown, while Sellers shambles around trying to figure it all out. The film is further spoiled by very lazy editing which does nothing to help the narrative and on at least two occasions is just plain annoying. There is a scene in which Sellers takes Loren's pulse, and the camera rapidly cuts back and forth from that scene to another over a soundtrack of African drums. To what end? It's certainly never explained by the characters, and when it is used again in the ending we're even more confused and annoyed. Elsewhere there are too many dissolves from one scene to the next. Not only does this make the film languid, but it confirms that the filmmakers are more interested in the beauty and fashions than the plot. Many of these dissolves allow us to focus on Loren's face long after she has stopped being interesting, as if the director is saying: "I'm not starting the next scene until you admit that she's gorgeous." At the rate I was going, we would have stayed in the same scene for the whole film. We do get occasional moments in which things fleetingly improve. There is a passable supporting performance by Alastair Sim as the executor of Epifania's estate. His voice does become annoying by the end, and his scenes are incoherently staged, but he has a great deal more presence than either of the major stars. There is also a pleasant cameo by Alfie Bass, who plays the kipper salesman. He is given very little to do either by the script or the director, but if nothing else he manages to distract our attention from the annoying Loren for a little longer. In sum, though, The Millionairess is a stupid and shallow film, which is unfunny, unmemorable, badly constructed and completely full of itself. It is testament to all that was wrong with post-war cinema, in its construction, narrative, contrived dramatic devices and bad casting. The ending is insulting and makes no sense, there is no romantic tension between the characters, the editing is ludicrous and neither Sellers nor Loren are in the least bit charming. For all the problems of My Fair Lady, or Oliver!, or even Mary Poppins, at least those films had something in the way of mass appeal or genuine charisma which made you remember them in a positive light. The Millionairess has nothing of the sort, being instead one of the most repulsive and sickening films of the early-1960s.
Daniel Mumby
Super Reviewer
The Millionairess Quotes
There are no approved quotes yet for this movie.