The Missing
(2003)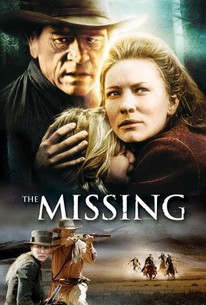 Movie Info
In 1885 New Mexico, a frontier medicine woman forms an uneasy alliance with her estranged father when her daughter is kidnapped by an Apache brujo.
Critic Reviews for The Missing
Audience Reviews for The Missing
A good movie if you like your westerns without a lot of fluff. Maggie's older daughter is kidnapped by a creepy native psychopath, and it is up to Maggie and her father (who she detests) to save her. As well as dealing with the kidnappers, the relationship between Maggie and her dad must be settled. There is a lot going on in this movie.
½
Not even with the names in this movie can keep me awake during this long uninteresting and uncaptivating movie!
Film Crazy
Super Reviewer
I am prompted to write this review because I've seen so many negative reviews of The Missing, while personally I enjoyed it and believe it can be defended as at least a good film. It's a modern western, a gripping, chilling adventure, in the vein of John Ford's The Searchers but not so epic in scope or tone. The Missing is beautifully shot and brutal at times, a dark, supernatural spin on the western genre, non-traditional even more with a dominant heroine. This type of tale; white girls kidnapped by ruthless Indians prompting a desperate pursuit and siege, has been done before, but this take is fresh. I believe the cast to be excellent, and I appreciate director Ron Howard's approach to the characters. Cate Blanchett is the heroine, effective, tough, and believable. Tommy Lee Jones' character is less effective but no less interesting. He's colorful; he adds expertise, but his heavy baggage and decades-long neglect negate any real leadership potential. Blanchett is the dominant force, and the father-daughter dynamic back-story adds some depth. The Indian sorcerer character, played by Eric Schweig, is brutal and riveting. He's the most frightening character I remember since Hannibal Lecter. His performance is unforgettable, Oscar-caliber. The Missing isn't perfect, but it is an excellent addition to the modern western alongside: Unforgiven, 3:10 to Yuma, and Purgatory. This story has been criticized for being improbable and melodramatic, but from what I've read, Ron Howard insisted on authenticity throughout the film making process. Call the story unbelievable, so suspend a little disbelief here and go along for the ride. You'll enjoy it.
Clintus Maximus
Super Reviewer
The Missing Quotes
There are no approved quotes yet for this movie.