The Mission
(2000)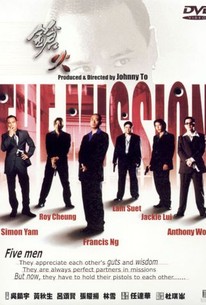 Movie Info
Veteran Hong Kong director Johnnie To spins this wild, kinetic crime thriller. Following a failed assassination attempt on his life, crime boss Lung (Ko Hung), instructs his henchman Frank (Simon Yam) to find the villain behind the plot. Frank soon hires a quintet of hired guns to guard the boss, including the laconic Curtis (Anthony Wong), the flinty Roy (Francis Ng) and his protégé Shin (Jackie Lui), the haggard Mike (Roy Cheung), and firearms expert and peanut enthusiast James (Lam Suet). The group manages to thwart three attempts on the old man's life -- one from a sniper, a second in a shopping mall, and the third in an old warehouse -- until they figure out that rival crime boss Fat Chung (Wong Tin-lan) had order the hit. This film was screened at the 2000 Berlin Film Festival.
Critic Reviews for The Mission
All Critics (5) | Top Critics (1) | Fresh (3) | Rotten (2)
Johnnie To took over the crown of Hong Kong's king of crime thrillers after John Woo left for Hollywood and The Mission (1999) is the film that put him on the throne.
The male world of deception, violence, and suave killers remains intact, a woman's death letting buddies off the hook for their betrayal of the bodyguards' code.
March 15, 2007
Audience Reviews for The Mission
If there is a Hong Kong crime thriller to remember, it is Johnnie To's The Mission.
Running a brief 80+ minutes, it turns out that is enough time to deliver a solid story, complete with excellent characters and properly inserted action sequences. The dialogue is light, which plays in with the film's style, which tends to be a little film noir-ish at times. Initially, the background music comes across as "cheesy", even with the fantastically written opening segment, but it ends up fitting in as the film progresses.
The action scenes, along with most of the picture in general, is carried by great cinematography, leading to some visually stunning and memorable shooting pieces.
Anthony Wong, Francis Ng, Roy Cheung, Lam Suet, and Jackie Lui make up the 5 major leads. These 5 alone make this film recommendable in its own right.
The Mission is a well oiled machine and a crime thriller worth the watch.
½
I like Johnnie To films, he knows how to entertain. And this film is no exception as five disparate men become bodyguards for a Hong Kong Triad boss threatened by an unknown enemy. Cue male bonding and elaborate gun battles and a cute game of scrumpled-paper football. The plot is nothing you haven't seen before, but it's a fun ride.
½
intriguing Johnny To fare...filled with tension, great cam work and gun play...first rate acting..simple sotry done well...
The Mission Quotes
There are no approved quotes yet for this movie.