The Monitor (Babycall)
(2012)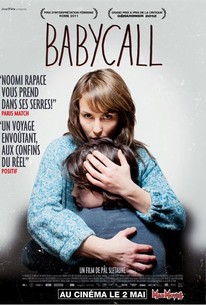 The Monitor (Babycall) Photos
Movie Info
An emotionally-scarred woman flees her abusive husband with their 8-year-old son, but finds her sanity slipping while suffering a series of terrifying hallucinations in this dark thriller from Norway. Anna suffered under her tyrannical husband for far too long, and now she's determined to give their young son a better life. Fleeing her home with her child clutched close, she moves them both into a massive apartment complex where they can never be found. In order to keep a close watch on her son, she places a baby monitor in his room and leaves it on at all times. Meanwhile, the monitor seems to begin picking up signals from other parts of the building. Then one day Anna hears what she believes to be the sound of a young child being murdered over the monitor. Could it be that Anna's mind is playing tricks on her, or has this desperate mother just awoken from a real life nightmare to find herself in a living hell with no hope for escape?
Critic Reviews for The Monitor (Babycall)
Audience Reviews for The Monitor (Babycall)
An absorbing and well-paced psychological thriller that never loses its grip, with an intriguing mystery that keeps us at the edge of our seats trying to figure out what is really going on - and Noomi Rapace is fantastic as the center of this sad, devastating story.
Carlos Magalhães
Super Reviewer
½
** out of **** I always enjoy watching Noomi Rapace play new character on-screen. Her career has been going down some genuinely interesting roads ever since she portrayed the universally intriguing female half of Stieg Larrson's "Millennium Trilogy", Lisbeth Salander, and it's already become clear that she is a truly talented actress in that the one character does not become her. When you see Rapace in other movies, you don't see Lisbeth; or at least I don't. Rapace alone provoked me to watch the Norwegian psychological thriller "The Monitor" (also known as "Babycall"). As much as it provides another chance to see a good actress in action and as obviously inspired by the great masters of suspense such as Hitchcock and Polanski as it may be; "The Monitor" is nonetheless an unfortunate failure that repeatedly shoots itself right in the foot. It gets off to a PRETTY good start. Anna (Rapace), a mother, and her eight-year old son Anders move to a new apartment after just barely escaping the boy's abusive father (and her former husband), who we learn attempted to drown Anders and even throw him out a window. Anna believes that they're safe for the time being, although she's still super-protective of Anders. So protective that she prefers that he sleeps in her bed, with her, and to the point where she buys a baby monitor so that no violent action committed towards the child while he's in his room goes unheard of. However, shortly after getting the monitor, other noises start coming from the other end. Noises that could not possibly be coming from Anders or his room for the matter. What we hear could be interpreted as domestic violence amongst families, children, husbands, and wives. Distant, cold screams and muffled pleading. The scenes where Anna listens in on these unseen but not unheard of tragedies are truly unnerving. Anders starts attending school again, makes a new friend, and instantly starts acting out in various ways (such as pinning a photograph of his father on his bedroom wall). Anna starts to think she's going around the bend. Her world is changing around her. The lake that she thought was close by to the apartment complex appears and reappears as it pleases. She witnesses bodies being lifted into trucks in the parking garage. This really could have been an interesting film about child abuse and the line that is blurred between hallucinatory dream and reality, but instead it comes off as a rather wasted opportunity. The pacing starts out alright, but then the whole thing just gets needlessly absurd and doesn't let up in that department. By the end, it's just become unbelievable. But along the way, the film just keeps throwing in needless characters - such as an electronics store clerk who sells Anna the monitor and is supposed to bring a romantic dynamic to the story - and situations. Director Pal Sletaune obviously expresses an interest in the true artistry involved in creating suspense; but his efforts are unsuccessful as his film might as well mirror your average dumb, absurd Hollywood thriller, only slightly smarter. And at that, we are back to Rapace. She has this essence of maturity to her technique that instantly makes her more engaging to watch than most actresses that would be caught dead in this kind of film. I admire that she's branching out and her performance here was certainly a lot of fun to watch in spite of her desire to be as un-emotive as possible most of the time (although who can really blame her). The other actors are average but satisfying. Too bad the movie itself is not. Cold and unbelievable; "The Monitor" doesn't make the cut but is inoffensive given its content and its quality. What you've got is something that is competently crafted, but not nearly enough to engage even the most patient of viewers. What's the point of building so much dread if you can't support it with a solid story and characters? The answer is, there is no point; and there might as well be none to this film's existence either.
Ryan Marshall
Super Reviewer
Noomi Rapace is brilliant in this Norwegian twist on "Rear Window". She's in a witness protection style program, on the run with her eight year old son from her abusive husband. Kristoffer Joner is likeable as the loner who befriends her. Sadly the movie ultimately suffers from a predictable Shyamalan style twist ending but director Pål Sletaune keeps it moving along nicely and it is quite involving. I certainly enjoyed it more than the over-rated "Girl With The Dragon Tattoo".
The Movie Waffler
Super Reviewer
The Monitor (Babycall) Quotes
There are no approved quotes yet for this movie.