The Monkey's Paw
(2013)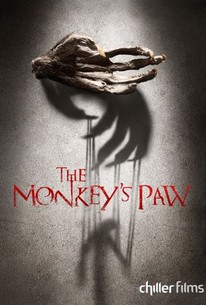 AUDIENCE SCORE
Critic Consensus: No consensus yet.
Movie Info
Jake is given a monkey's paw that grants three wishes. After the first two wishes leave his friend Cobb undead, Cobb pushes Jake to make a final wish.
Critic Reviews for The Monkey's Paw
Audience Reviews for The Monkey's Paw
½
I was pleasantly surprised by this movie, particularly considering the last Chiller movie I saw, Deep in the Darkness wasn't very good. I suppose the quality of each film has more to do with the content of the film as opposed to the budget, but I'm assuming that this movie had around or the same budget as DITD, but I thought the scripting was a little better here, as was the acting. Stephen Lang is an underrated actor and he was one of the few things that I liked about Avatar and he does a good enough job here in this movie as well. I liked the progression of the story. Not that it's anything that great or compelling, but you're at least invested enough in wanting to see how the film's narrative plays out. The problems come in the fact that the film is pretty much has one tone through and through. I mean, I guess someone coming back from the dead, due to a wish granted from the monkey's paw, completely different and homicidal as opposed to who they were before they died is interesting, but I think the movie needs a little something more than Stephen Lang, literally, going all over New Orleans to kill a ton of people. Though, at the very least, the film tries to give you a reason for Lang's character's actions. He was having issues with his ex-wife, who took out a restraining order on him to stay away from her son. We don't know what happened in their past, but it can't have been good if the restraining order got approved. Lang's character laments the fact that he isn't allowed to see his son before he dies and after he comes back, he's a little more, let's say, assertive about wanting to see his son again. So at least there's a motivation for why Lang's character is doing what he's doing, so that's always good to see. Like I said, the film doesn't really branch out much out of its initial tone, so it always ends up feeling the same, though I did think the climax was solid and there was some good acting involved here. I definitely think this is a movie that overachieves from, what some would describe, a limited scope. It's not that I would say that this is good or anything, because it isn't, and it doesn't really do anything wholly unique. But I did think the film told a story that had you invested in seeing it all the way to its conclusion and some solid acting to elevate its weaker elements. It's not a good movie, or anything like that, but I was pleasantly surprised by this. I wouldn't exactly recommend it, but it's not a terrible movie at all, it's average at best.
Jesse Ortega
Super Reviewer
In 1902 in England, W.W. Jacobs first published his supernatural short story - "The Monkey's Paw"... in the story, three wishes are granted to the owner of the monkey's paw, but the wishes come with an enormous price for interfering with fate. Almost exactly 111 years later, the director Brett Simmons and writer Macon Blairbring bring us a horror movie based on this short story. .. but it is not as short, or effective! The acting of Stephen Lang, C.J. Thomason, Corbin Bleu and Charles S. Dutton was on the edge of boredom! Do not be fooled - this is not even close in quality to the 1948 or 2011 British films with the same name! [img] http://upload.wikimedia.org/wikipedia/en/9/9b/The_Monkey%27s_Paw_2013.jpg [/img] The film revolves around Jake Tilton, who receives the mysterious monkey's paw talisman from a colleague, and he wants three wishes granted. He uses two... and throws the paw... but his second wish causes lots of trouble, and there is no way back. It is presented as more of a sequel to the short story by W.W. Jacobs rather than as a straight up re-telling. I have to give the director extra credit for the ambiance but somehow he was really careful to go for anything extra when it comes to scares. While it's entertaining enough for B-grade movie audiences that aren't expecting too much of it, for all other would feel flat! If you are really bored to death and you run out of movies, maybe you could consider it as a weekend rental... not recommended under any other circumstances!
The Monkey's Paw Quotes
There are no approved quotes yet for this movie.