The Monster
(2016)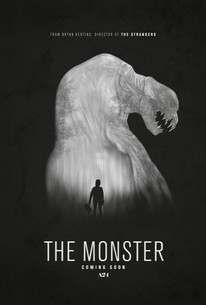 TOMATOMETER
AUDIENCE SCORE
Critic Consensus: The Monster uses its effectively simple setup and a powerful lead performance from Zoe Kazan to deliver a traditional yet subtly subversive -- and thoroughly entertaining -- horror story.
Movie Info
Acclaimed horror filmmaker Bryan Bertino (The Strangers) directs this suspenseful and scary new film, in which a divorced mother (Zoe Kazan) and her headstrong daughter must make an emergency late night road trip to see the girl's father. As they drive through deserted country roads on a stormy night, they suddenly have a startling collision that leaves them shaken but not seriously hurt. Their car, however, is dead, and as they try in vain to get help, they come to realize they are not alone on these desolate backroads--a terrifying evil is lurking in the surrounding woods, intent on never letting them leave...
News & Interviews for The Monster
Critic Reviews for The Monster
Audience Reviews for The Monster
½
This was a very well made indie horror film. I enjoyed the emotional storyline between a mom and daughter on the fringes. The atmosphere is brilliant and you are kept in this dark world until the bitter ending. I feel the ending wasn't the sharpest but when 90 percent of the film works it's pressure they couldn't maintain. I really enjoy these indie Canadian films and the characters are deep and well crafted. I hope the creators move onto similar low budget storytelling as they maintain a mood that's missing from modern cinema. I'm disappointed films like these don't come to the cinemas in my country, this was one of the better horror films I've seen. 08-05-2017.
Brendan O'Connor
Super Reviewer
½
Excellent horror film. I love the level of suspense that this film creates, and the cinematography is awesome.
Stephen Skudlarek
Super Reviewer
½
Monster movies are like zombie movies, which I talked about the other day in my review of The Rezort, there's either a movie that finds a new and clever angle to use its monster or the movie plays into every monster movie cliche usually associated with the subgenre. The Host is one of those movies that combines both, it uses a monster to tell character-driven story with some social commentary, but it also plays like a regular monster flick. It can be enjoyed as popcorn entertainment and, if you look deeper, it can also be enjoyed as something more than that. And, for the past 11 years since its release, The Host has been the benchmark for what a truly excellent monster movie should be. So where does this movie match up with The Host? It doesn't really even come close, but in some ways it's better than The Host. And those ways are very simple, I do believe that the movie has a stronger narrative between its lead characters than those in The Host. There's an inextricable relationship between Kathy and Lizzy. And it almost has to be that way considering that they are mother and daughter, respectively. The film, while obviously focusing on the monster, explores at length the very troubled relationship between Kathy and Lizzy. This is revealed through flashbacks that reveal Kathy's trouble with alcoholism and how Lizzy gets the brunt of Kathy's anger whenever she's drunk or wants to go out to get some alcohol. Because of that, obviously, the movie is a little more serious than one would reasonably expect, but I believe it works because it gives you some perspective on how Kathy and Lizzy got to the point they are in their relationship at the start of the movie. I do believe there's a mutual hatred between each other. At least from Lizzy's part and, having seen her past, it's not like I would hold it against her. She's not a pissy kid for no reason whatsoever, her mother has pretty much put her through hell when she had no right to, so I get her hatred of her mother. But, even with that, there's still a part of Lizzy that holds on to the hope that her mother will rehabilitate herself and will get back on the right path. This gives the emotional heft. It can get a bit heavy-handed in its approach, but it mostly works due to Zoe Kazan's and Ella Ballentine's performances. I'm not surprised by Zoe's performance, because she's great. Ella's the one who surprised me the most. I've seen two movies she was in before, but I simply do not remember her in either of them. Must have been minor roles. But, honestly, she steals the show in this movie. She is excellent. The problem with the film and its narrative is that it gets very weepy. Because of that, while the film has strong characters that you care about, it all feels very one-dimensional as you only get to see the darker side of the characters and their personalities. One-dimensional characters can still be strong. The movie needed to show the good with the bad, but they only focused on the bad. I'm not saying it had to be perfectly balanced between good and bad. But showing us a few snippets of happiness would have made drama that more effective and not a complete downer. But that's just me. No complains about Zoe or Ella though, they were both excellent. As far as the monster part of the film goes, it's actually one of the better monster movies I've seen in a while. Not saying it's a great movie, but I felt that the horror in the film was fairly intense all things considered. The fact that it takes place in the middle of one road, surrounded by a forest, gives it a bit of a claustrophobic feeling, even with a forest around, simply because there's no way to know where the monster is gonna come from. If you walk down the roads you're fucked, since you're just heading in one direction, leaving you, really, as something of a sitting duck. If you go to the forest then you're also lost and unaware of where you're actually going, not to mention the fact that the monster could be pretty much anywhere. And the movie does get a lot of mileage with that. It doesn't do anything that you haven't seen before in a monster movie, but what it does it does really well. With that said, as a whole, I thought this was a very good movie. Is it better than some of the best monster movies out there? No, not at all. But it offers a really good movie, with strong characters, though this is a narrative that only looks at one aspect of the mother-daughter relationship, and some really strong horror. Not to mention the excellent performances from the leading ladies. That's make this an easy recommendation, really. It's not perfect, but it's damn good.
Jesse Ortega
Super Reviewer
The Monster Quotes
There are no approved quotes yet for this movie.