The Moon Is Blue
(1953)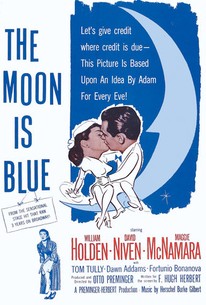 Movie Info
This is the story of a chaste young TV-commercial actress (Maggie McNamara) who is romanced by a playboy architect (William Holden). Despite all sorts of temptations, the girl refuses the architect's invitation to become his mistress, holding out for marriage or nothing. Meanwhile, middle-aged rake David Niven tries to move in on the girl himself, with an equal lack of success. So why was this harmless little comedy so controversial? It seems that director Otto Preminger decided to film the play as written, retaining such words as "virgin," "seduce," and "mistress" in the script. The antediluvian Motion Picture Production Code refused to approve the film so long as those naughty words remained in the dialogue; thus, Preminger released the picture minus the Code's seal of approval. Rather than hurt the film's chances at the box office, Preminger's bold move resulted in a major financial success -- not to mention the beginning of the end for the ancient, wheezy Production Code. However, in the meantime, troubles piled up; the Jersey City Municipal Court -- at the hands of Secaucus' Justice George King -- fined Alfred Manfredonia, manager of the Stanley Theatre, 100 dollars for screening the film (declaring him guilty of violating a city ordinance), and a ban was imposed on the picture by the Maryland State Board of Motion Picture Censors. While The New York Times' Bosley Crowther dismissed the accusations of prurience, he blithely observed, "The Moon Is Blue is not outstanding, either as a romance or as a film...at times, it gets awfully tedious...Its charm...will depend on how much one delights in its choice of words."
Critic Reviews for The Moon Is Blue
Audience Reviews for The Moon Is Blue
½
Preminger likely was proud of this film pushing the Code's seal of approval and Niven thought enough about it to name his autobiography after it but it really isn't much to write home about. Holden and Niven who are so fantastic in other roles are terribly flat.
John Ballantine
Super Reviewer
Silly comedy once notorious for it's use of the word virgin is now just dated nonsense.
What a shame. One of the best movies I've seen and there's almost no one that has seen it. The script is absolutely brilliant. So is the acting. So is the imagery. Perhaps one of the most overlooked movies ever?
The Moon Is Blue Quotes
There are no approved quotes yet for this movie.