The Muppets
(2011)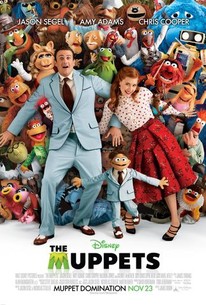 TOMATOMETER
AUDIENCE SCORE
Critic Consensus: Clever, charming, and heartfelt, The Muppets is a welcome big screen return for Jim Henson's lovable creations that will both win new fans and delight longtime devotees.
Movie Info
On vacation in Los Angeles, Walter, the world's biggest Muppet fan, and his friends Gary (Jason Segel) and Mary (Amy Adams) from Smalltown, USA, discover the nefarious plan of oilman Tex Richman (Chris Cooper) to raze the Muppet Theater and drill for the oil recently discovered beneath the Muppets' former stomping grounds. To stage The Greatest Muppet Telethon Ever and raise the $10 million needed to save the theater, Walter, Mary and Gary help Kermit reunite the Muppets, who have all gone their separate ways: Fozzie now performs with a Reno casino tribute band called the Moopets, Miss Piggy is a plus-size fashion editor at Vogue Paris, Animal is in a Santa Barbara clinic for anger management, and Gonzo is a high-powered plumbing magnate. -- (C) Walt Disney
News & Interviews for The Muppets
Critic Reviews for The Muppets
Audience Reviews for The Muppets
After the Muppets have been invisible in the cinemas for over 10 years now, so having a new muppet movie come out was a big surprise to me. But now that I've seen it, is my verdict that I think its a fantastic movie that is well worth your time, or do I think that it is a movie that you should definitely avoid at all costs? I actually think, it wasn't as good as I thought it was going to be, and it was kind of a disappointment. The film does very good at pulling at your heart strings and make you feel sorry for what happens to the characters, even if there are moments that are a bit iffy in the feelings. The pace of the film is very slow at some parts and it doesn't entertain as much as the past Muppet movies. I don't think it is a bad movie, but it doesn't give as much payoff as it could've been, especially for another Muppet film that I've been waiting to see in the theaters for over 10 years. Its good for kids, and you might be entertained by it, but overall it isn't the best Muppet movie, but it is good, but it isn't the best film I've seen this year. 2.5*s out of 5 Review originally written 12/4/11
Michael Edwards
Super Reviewer
½
"The Muppets" may be one of the corniest films of 2011, but it is happily one of the best. Jason Segel and Amy Adams lead the Muppets back to stardom, as a new Muppet (Walter) is fantasized of one day meeting the entire gang. When he travels to see them, he realizes that the Muppets studio is going to be torn down by a ruthless billionaire in order to savage the oil underneath. In order to save the theatre, the Muppets must perform one last show. After breaking the fourth wall countless times, having numerous (fantastical) musical numbers, a charming script, and an overwhelmingly joyful amount of cameos, "The Muppets" definitely concludes with a heartwarming lesson that will have all families (fans or not) applauding in tears. The jokes are endlessly funny and there is never a dull moment (disney pun). I absolutely loved the Muppets, but it does have it's moments of being a little over-cheesy and a few times will overshadow the story when they address the audience, but that will not stop me from calling this movie fantastic! "The Muppets" are back!
i have to start by saying that i grew up on the muppets, that im a huge fan, that i loved watching this film, and that i thought it was very solid, thus the solid score. i had some big issues, but lets start with the good. well, really the only good we need is the muppets. theyre just amazing. i dont own a kermit watch, but i understand walter's fandom. we should really be getting a new muppets film every few years. however, i had some issues here as well. my kids laughed at the fart jokes, but they are really sub standard for muppets material, and felt out of place. the big show that the film led to was very underwhelming. i hoped for something involved. the celebrity appearances were also underwhelming, and a bit disappointing in terms of purpose. the end was rushed and very anti climactic, and was weakened by an obvious plot hole in the development of the major conflict in the film. and my biggest issue was that the entire plot device of "we dont talk and need to get the band back together" undermines the frequency of their activity over the past few years, such as their network Christmas special just a couple of years ago, and the establishment of their lore and material of previous muppets films and tv shows. i know it sounds like im being overly critical of a movie with a bunch of puppets, but they are more than puppets to me. it didnt have to be perfect, but i did want the film to respect previous continuity of the characters, and this is one of the main things i felt that it was weak in. i was also disappointed that we didnt get any rizzo. apparently he was in a scene, but he didnt speak, and i missed him altogether. overall, i actually did really enjoy it, im glad it got made, and i hope that we dont have to wait too long to see these characters again.
The Muppets Quotes
| | |
| --- | --- |
| Gary: | So you guys aren't getting back together? |
| Kermit: | [sadly] No. |
| Kermit: | No. |
| Mary: | This is going to be a really short movie. |
| | |
| --- | --- |
| Rowlf: | How come you didn't use me in the montage? I thought my story was pretty interesting. [cut to Rowlf snoring in a hammock on his porch surrounded by other Muppets] |
| Rowlf: | How come you didn't use me in the montage? I thought my story was pretty interesting. |
| Kermit: | Rowlf? |