The Music Box
(1932)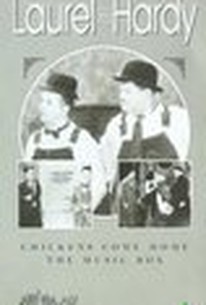 AUDIENCE SCORE
Critic Consensus: No consensus yet.
Movie Info
This most famous of Laurel and Hardy shorts won an Oscar for "Best Comedy Short Subject." Stan Laurel and Oliver Hardy play characters who run a transfer company. They are hired to deliver a player piano to an address which turns out to be up a very long flight of steps The whole film involves the pair's adventures bringing the piano up the steps, the piano sliding back down, the pair bringing it up again -- and then being told by the postman (Charlie Hall) that they could have driven it up a side road. Typically, the boys take the piano back down and bring it up "the right way," by the side road, only to find that the person receiving the piano is a temperamental professor (Billy Gilbert) who had been annoyed by them earlier. He destroys the piano in a fit of pique before discovering that his wife purchased it for him as a gift. The Music Box is classic Laurel and Hardy -- almost painfully hilarious. The same daunting concrete stairs (which still exist today in the Silverlake section of Los Angeles) were used previously by the comic duo in their 1927 two-reeler Hats Off.
Critic Reviews for The Music Box
All Critics (3) | Top Critics (1) | Fresh (3) | Rotten (0)
Like so many of Laurel and Hardy's escalating disasters, it can only be watched from between your fingers.
Demonstrates exemplary comic timing and some genuinely hilarious bits of exaggerated violence.
Audience Reviews for The Music Box
You can see the huge influence that this classic short comedy and other similar ones by Laurel and Hardy had on an infinitude of movies, cartoons and comedians that came out after, and it is really funny to see those two wrestling with a piano up and downstairs over and over.
Carlos Magalhães
Super Reviewer
I remember seeing this on tv years ago when Leonard Maltin would introduce laurel and hardy films on tcm. Upon viewing it again via youtube (i know right!?) a lot of things began to upset me. Why on earth did they lug that piano all the way DOWN the stairs when they already got to the top? Why couldn't that asshole professor just walk around? Still funny.
rocko perkovich
Super Reviewer
Another mediocre Laurel and Hardy movie, sometimes funny sometimes not funny.
The Music Box Quotes
There are no approved quotes yet for this movie.