The Mystery of the Wax Museum
(1933)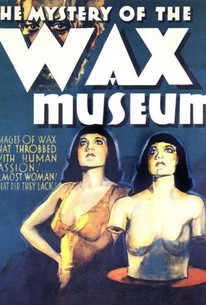 The Mystery of the Wax Museum Photos
Movie Info
The late Fay Wray is showcased here in this pre-'King Kong' horror movie. as a potential victim of a madman who makes exhibits out of his victims.
Critic Reviews for The Mystery of the Wax Museum
Audience Reviews for The Mystery of the Wax Museum
I was not a fan of 'Mystery of the Wax Museum'. It was meant to be a horror film, but got more than a little confused with a mix of awkward comic relief and romance added along the way. It tries to do too many things at once, and ends up doing a mediocre job at all of them. An example of this early on was a dopey comedic bit when the morgue robber sits up under a sheet and the orderlies stupidly shrug it off as the effect of embalming or the nature of women (double 'ugh', and this loses all opportunity for tension in the scene). Fay Wray plays a streetwise, fast-talking, tough reporter who varied between grating and interesting to me. Its pre-Code which allows her to bust off lines like "Hi sweetheart, how's your sex life?", to a male colleague, and after seeing the risqué cover of his copy of 'Naughty Stories', saying "uh-oh". Later she tells a guy to "go to a warm place, and I don't mean California." Unfortunately for all that, her 'detective work is quite simplistic'; she's on to the secret of the Wax Museum far too easily, finding morgue tags still on one of the exhibits. There is no real suspense or sophistication here, just a hodge-podge, and while there are creepy scenes, they're few and far between. I liked the fact the film was shot in the emerging 'Two-tone Technicolor' technology, which in some ways adds to the eeriness of some of the early scenes, before the script starts getting in the way of the whole thing. This one may have camp appeal and provide some entertainment, but for a truly great horror film from the time period, try 1932's 'Dr. Jekyl and Mr. Hyde' instead.
Antonius Block
Super Reviewer
½
A very cool movie, I especially love Atwill, he's a favourite of mine, and he does a great job in this movie. The story is really engaging, the special effects are awesome, there are some funny moments, and the ending was interesting too. I just wish that the wax figures could have been creepier like they are in real life. Overall I really liked this movie, though, and I highly recommend it.
½
7.0/10 There is one fatal flaw to "Mystery of the Wax Museum". It does not have the twist that it wants to have. Thanks to the existence of plot synopses and the like, we already know what the big reveal is going to be. That's not to say that the film has a bad ending, but it is underwhelming compared to the fear that we are intended to experience. Otherwise, the movie still makes for a pretty solid, creepy time. It is thoroughly entertaining. It is engaging. And while it's not really scary, it has a heck of an atmosphere, and that's more than enough. It's probably not as good as its first remake, "House of Wax", but it's still worth seeing just for what it's got; and believe me, it's got plenty. I liked how it looked, how it felt, and pretty much everything else. It was well-acted, somewhat well-written, and with only that one little-big flaw keeping it from absolute greatness. Ivan Igor, the owner and operator of a wax museum (which he sculpts for), loses his creations to a fire, the source of which was his greedy business partner; whose reason for burning the place was to use the insurance money for himself. Igor was left burn and disfigured both internally and externally after the incident, but it's clear that he's not ready to give up on life. Twelve years after the destructive fire, Igor re-opens a NEW Wax Museum for the entertainment and admiration of those who like his hard work. But will the wax make a Marie Antoinette? Will the man's "children" live once again? The answers to each question are predictably answered in the end, but I guess it's worth sticking around. Meanwhile, a reporter-woman investigates the disappearance and possible suicide of a local model. She is given the possibility that maybe it was murder, so she goes as deep as she possibly can with the case. The body is stolen from the morgue in which it resided, which adds to the mystery. The story is simple in an endearing sense. But what makes the movie work, as I said, is the fact that it redeems itself through atmosphere. It was tense, undeniably creepy, and man, I liked it quite a bit for that. The production is lush, colorful, and the cinematography is at least fairly interesting. I also liked how the film made time for humor and comic relief, which never really consists of stuff that I laughed at, but it made the experience a better one than it needed to be. I enjoyed myself, as much as I possibly could, whilst watching it. And I'm glad I sat through it. There are better horror movies. There are worse horror movies. I don't recommend this one, per se, but "Mystery of the Wax Museum" is definitely a good thriller if not a good horror movie. It works, as a chiller and a thriller; but I don't know about something that's actually scary. But what is "scary"? I mean, come on; you could do worse. I didn't jump, I didn't cringe, but the film definitely has a lot going for it, and I liked what I saw. I also would like to take some time to acknowledge the performance of Lionel Atwill, who plays Igor. He is very good in this role. He's one of the finer attractions, of the entire product. And while the film may be a tough sell with this generation of horror fans, you don't need to be an old-timer to appreciate such fine acting. All-in-all, I'd tell you to see this movie only if you like the genre, and if you're willing to accept a flawed ending. I'm eager to watch "House of Wax" now; and I'm hoping that it will be better; because better is...well, better.
Ryan Marshall
Super Reviewer
The Mystery of the Wax Museum Quotes
There are no approved quotes yet for this movie.