The Naked Hills
(1956)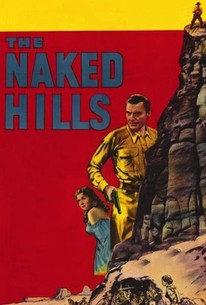 AUDIENCE SCORE
Critic Consensus: No consensus yet.
Movie Info
The talented David Wayne is afforded a rare movie starring role in Allied Artists' The Naked Hills. Wayne plays prospector Tracy Powell, whose all-consuming lust for gold motivates the plot. Heading to California during the '49 Gold Rush to try his luck in the mineral-rich mountains, Powell is forever one step behind those who are smarter and swifter than he. Meanwhile, Powell's wife Julie (Marcia Henderson) waits patiently at home for her husband to return from his many lengthy absences. At film's end, the older-but-no-wiser Powell is still chasing rainbows, with the fabled pot of gold still just beyond his reach. The excellent supporting cast includes James Barton as Powell's grizzled partner and Keenan Wynn and Jim Backus as a pair of claim-jumping sharpsters.
Critic Reviews for The Naked Hills
Audience Reviews for The Naked Hills
From The Mill Creek 50 Westerns Collection. Film is listed as being in color but this copy was in Black and White, The Naked Hills follows the four seasons of one man's life from youth to old age without bothering to worry too much about ageing the character who plays the lead role. David Wayne is our hero, and the only thing that occasionally saves him from blandness is the fact that he is so badly miscast. Hearing other characters call him 'son' and 'boy' when they are quite clearly the same age - or possibly even younger - than him just makes everyone look faintly ridiculous. The fact that Wayne isn't a particularly good or charismatic actor doesn't help either. Watching him struggle through the role you can't help thinking what a better job someone like Alan Ladd would have made of the role. Wayne plays a young man seduced by the lure of easy riches when gold is struck in the wild and woolly west. He heads there with his best friend, but they soon go their separate ways when, blinded by his desire for wealth, Wayne falls in with bad guy Keenan Wynn. Together they steal a claim from a couple of Mexicans and work it for themselves, only for Wynn to double-cross him when it comes to payday. Wayne finds himself a good woman and tries to settle down to a life of domesticity, but the call of the gold in them thar hills proves too much for him and it's not long before he's abandoning wife and young son for another attempt with his new best friend Jimmo (a great performance from James Barton). For a while it looks like he has struck lucky, but things soon take a turn for the worse. The film's main theme - the overriding and destructive desire for wealth portrayed as an addiction - is fairly timeless, I suppose, and it's doubtful that, human nature being what it is, we will ever learn much from cautionary tales such as this. To hammer home the destructive qualities of Wayne's obsession his greed for gold is paralleled with his appetite for booze. To be fair to Wayne he makes a pretty good drunk: he allows his eyes to cross ever so slightly and adopts a vaguely quizzical expression. And while the theme is a righteous one, it's diluted by the fact that the film skips over the early scenes so that we know nothing about Wayne's character before gold fever grips him. Considering the film is quite clearly made on the cheap, it's entertaining enough, but you won't remember much about it after a week or two. 3 Stars 9-27-13
Bruce Bruce
Super Reviewer
The Naked Hills Quotes
There are no approved quotes yet for this movie.