The Name of the Rose (Der Name der Rose)
(1986)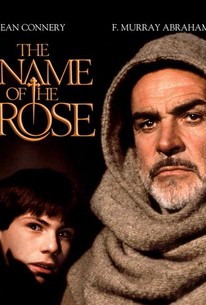 The Name of the Rose (Der Name der Rose) Photos
Movie Info
Adapted from Umberto Eco's best-selling novel, director Jean-Jacques Annaud's The Name of the Rose is a 14th century murder-mystery thriller starring Sean Connery as a Sherlock Holmes-esque Franciscan monk called William of Baskerville. When a murder occurs at a secluded Benedictine Abbey, William is called in to investigate. As he and his apprentice, Adson von Melk (Christian Slater), delve deeper and deeper into the case, more dead bodies begin to turn up. Eventually, Bernardo Gui, an inquisitor played by F. Murray Abraham gets involved, but he may not have the best intentions. Sean Connery's performance earned him the award for Best Actor at the 1988 British Academy Awards. ~ Matthew Tobey, Rovi
News & Interviews for The Name of the Rose (Der Name der Rose)
Critic Reviews for The Name of the Rose (Der Name der Rose)
Audience Reviews for The Name of the Rose (Der Name der Rose)
One of my favorite films of all time! This little-known film features strong performances from Sean Connery, F. Murray Abraham and a strange and unsettling William Hickey. This is probably Christian Slater's first big role, in which there is some momentary full-frontal nudity. I read an article 20 years ago where Slater said he truly regretted exposing himself on film. Well, Mr. Slater -- I don't regret it!
Christian C
Super Reviewer
In this adaptation of Umberto Eco's celebrated novel, Franciscan friar Sean Connery investigates a series of bizarre murders in a monastery in the 14th century. Aside from the rather unusual subject matter, this is a unique film in that it does not feature the usual starlets and pretty boy actors populating a glossy Hollywood-ized version of history; it actually looks and feels like a working Medieval abbey. And as such, the monks will win no beauty competitions! Most of them would look perfectly at home adorning the abbey walls with the rest of the gargoyles! This just adds to the already potent atmosphere, and in one of his best roles, Sean Connery commands the screen as well as the able supporting cast including the ever reliable Ron Perlman as the demented hunchback. The story explores the theme of religious intolerance and climate of hysteria in which a reasonable minded man of learning can find it impossible to function within; "justice" is doled out by self-appointed prophets who dare not be opposed on pain of death, and blind faith and superstition replace logic and reason. Let's face it, things haven't changed much over the centuries. Add some wonderfully literary and witty dialogue and fascinating historical insights, and you have a film that works both as an excellent adaptation and a satisfying murder mystery.
½
Great atmosphere and mood. An inspiration for Fincher's Alien 3.
Ken Stachnik
Super Reviewer
The Name of the Rose (Der Name der Rose) Quotes
| | |
| --- | --- |
| Monk: | Did Christ own the robe he wore? |
| | |
| --- | --- |
| William of Baskerville: | "Have you ever known a place where a God would have felt at home ?" |
| William of Baskerville: | Have you ever known a place where God WOULD have felt at home? |