The Neverending Story
(1984)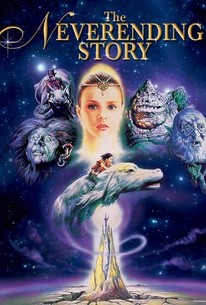 TOMATOMETER
AUDIENCE SCORE
Critic Consensus: A magical journey about the power of a young boy's imagination to save a dying fantasy land, The NeverEnding Story remains a much-loved kids adventure.
The Neverending Story Videos
The Neverending Story Photos
Movie Info
Wolfgang Petersen adapted Michael Ende's children's story for this charming fantasy film that spawned several sequels. Bastian (Barret Oliver) is dealing with his mother's recent death. His father (Gerald McRaney) is an imperious sort who continually lambastes Bastian for daydreaming and falling behind in school. On top of his father's badgering, he has to contend with a bunch of school bullies waiting for him in the schoolyard. One day he decides to play hooky and walks into a strange bookstore, where in the attic, he discovers a book called "The Neverending Story". As Bastian reads the book, he's enveloped in the unfolding tale. A sickly child-like empress (Tami Stronach) from a land called Fantasia is concerned about who will take over the land if she dies. She decides it is best for Fantasia if she remains alive, so she dispatches a young warrior named Atreju (Noah Hathaway) to find a cure for the empress's malady. It turns out the land is consumed with a plague called The Nothing, generated by blighted dreams and hopeless fantasies. As Atreju continues onward to search for a cure for The Nothing, he encounters an assortment of strange creatures. Bastian is so consumed with the tale that he finds himself catapulted into the land of Fantasia himself. Atreju realizes that the only way to save the land from its blight is with the help of this strange earth boy, Bastian. ~ Paul Brenner, Rovi
News & Interviews for The Neverending Story
Critic Reviews for The Neverending Story
Audience Reviews for The Neverending Story
½
Liked this when I was little. Still pretty good for a kids film. Not my taste these days, but have to admit the child actors are very good and the luck dragon is cute.
Nicki Marie
Super Reviewer
Good old fashioned family entertainment at it's finest. "The Neverending Story" is a film for all ages. Released in 1984, this film still holds up today as a family classic. Following Bastian as he discovers a book called "The Neverending Story" at his local book store, he takes it home out of pure curiousness put in his head by the book store owner. Upon his reading, he is immediately immersed in the story at hand. The story follows Atreyu, a young boy set on a quest to save their world from being consumed by what is known as the nothing. Becoming so immersed that he himself becomes a part of the story in his own mind, the characters begin to hear him. This film is chalk-full of imagination. This picture is the epitome of originality for all ages. With weird looking creatures to bizarre characters and storylines, this film never strays from clever and will have you immersed from the opening credits. It does scream 80's, but in the best way possible. I found myself smiling, tearing up, and being totally invested in what was happening to each and every character, even though it is totally a fictional world. I love every second of this film. It is not very often that we get films as original as this nowadays, especially when it comes to children's films. Sure, Pixar still does wonders for originality, but as far as live action family films go, this is a prime example of what filmmakers should be looking at achieving. Technology has come so far to the point where films like this can be achieved better than ever. For it's time though, "The Neverending Story" looks absolutely beautiful. Overall, this is an incredibly uplifting tale with hardship and fun sprinkled throughout. Younger audiences may get slightly more out of it, but it has a few very scary moments for younger audiences and adults may just feel their childhood screaming to come back out. From beginning to end, it finds new ways of being original and never once did I find myself rolling my eyes. For it's time, this was perfect family entertainment, and to this day, I still believe that it is. This film is (for what it is) is spectacular. Sure, it can be chuckle-worthy at times, but the story itself is worth telling over and over. Highly recommended to those who have yet to see this film.
Nope, I didn't enjoy it. Perhaps in 1984 it was entertaining, but neither the acting nor the special effects were satisfactory. I gave it 2 out of 5 as the story has possibilities.
The Neverending Story Quotes
| | |
| --- | --- |
| Engywook: | To the winch, wench. |
| | |
| --- | --- |
| Falkor: | Never give up and good luck will find you. |
| | |
| --- | --- |
| Falkor: | Never give up and good luck will find you. |
| | |
| --- | --- |
| Falkor: | I like children. |
| Atreyu: | [nervously] For breakfast? |
| Falkor: | [laughs] Never! |