The New Janitor
(1914)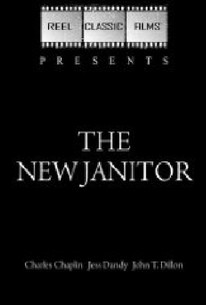 AUDIENCE SCORE
Critic Consensus: No consensus yet.
Movie Info
In Charlie Chaplin's 27th comedy for Keystone, and arguably his best, he plays not a homeless Tramp, but an inept janitor in a bank. The film is a forerunner of his later Essanay film The Bank. It is the first Chaplin film in which is seen a glimmer of the pathos mixed with comedy that would become his Tramp's defining characteristic. Charlie is first seen in the lobby of the building with his broom and dustpan, being shut out of an elevator ride by a nasty elevator operator. He makes the long climb upstairs and begins his duties cleaning the offices but bungles most of the jobs. Dusting in the president's office he is clearly smitten by lovely stenographer Gene Marsh. She is in love with the manager, which is seen as she caresses his hat hanging outside his office. In that office, the manager receives a note from his bookie who threatens to expose him if he does not pay his gambling debts. He decides to rob the safe in the president's office. Meanwhile, Charlie accidentally dumps a bucket of water out the office window which soaks the president. Enraged, the president rushes upstairs and fires Charlie, who begs for his job. (During a rehearsal of this scene, according to Chaplin's autobiography, Alice Davenport watching from the sidelines found Charlie's protestations so pathetic she burst into tears.) Unable to change the presidents mind, Charlie heads downstairs to the storage room and prepares to leave. When the president and the stenographer leave, the manager sneaks into the president's office and opens the safe. He's caught by the steno who has returned unexpectedly, and the manager attacks her, threatening her with a gun. Just before she faints, she presses a call button which rings in the janitor's storage room. Charlie, after a moment of indecision, makes his way upstairs and, seeing the situation, knocks the gun from the manager's hand. Bending over to pick it up with his back turned, he holds the manager at bay by aiming the gun between his legs. He steps over his arms and goes to the window, firing some shots which quickly brings a cop to the office. The president arrives and when it is assumed that Charlie is the hold-up man, he is apprehended by the cop. The stenographer awakens and identifies Charlie as the real hero, who receives a reward and a handshake for his efforts.
Critic Reviews for The New Janitor
All Critics (1) | Fresh (1) | Rotten (0)
'The New Janitor' is a silent short film by Chaplin that manages to make me laugh for twelve minutes of pure slapstick. [Full review in Spanish]
Audience Reviews
There are no featured reviews for The New Janitor at this time.
The New Janitor Quotes
There are no approved quotes yet for this movie.