The New Kids
(1985)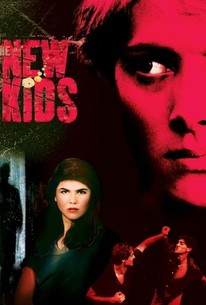 AUDIENCE SCORE
Critic Consensus: No consensus yet.
Movie Info
With less blood and guts than Sean Cunningham's Friday the 13th series, this teen thriller is about Abby (Lori Loughlin), a particularly moral young woman and her brother Loren (Shannon Presby), cut from the same mold. The two have lost their parents in an accident and are obliged to go live with relatives in a small town in Florida, a town that is also home to a gang led by the psychotic Dutra (James Spader). When the gang members learn about Abby, they see her only as a new conquest on the horizon, but her repulsion for them and her brother's brawn keep them at arm's distance. Not liking this treatment at all, the gang starts to slowly pull out all the stops in expressing their hatred, and as their reprisals escalate, an all-out final confrontation seems inevitable.
Critic Reviews for The New Kids
All Critics (4) | Top Critics (1) | Fresh (1) | Rotten (3) | DVD (2)
these clashes - both tonal and ideological - reflect the contradictions of the times, when Reaganomics were aspirational model for some, and nightmare for others.

...a slow-moving drama that ultimately boasts few attributes worth investing in and getting excited by...
The protagonists are paper-thin caricatures; the villains are ridiculously, stupidly, evil; the plot is dirt-dry and predictable; and the hairstyles are just plain nutty.
Audience Reviews for The New Kids
A good cast, but a so-so movie, the story is most exciting towards the end, but the rest is just okay. Spader is really good as the annoying punk.
½
Great 80's flick. Spader plays the ultimate baddie in this.
The New Kids Quotes
There are no approved quotes yet for this movie.