The Night Comes For Us
(2018)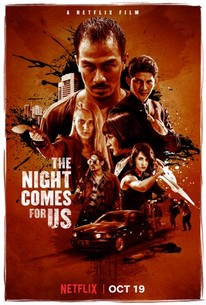 The Night Comes For Us Videos
The Night Comes For Us Photos
Movie Info
The Night Comes For Us follows Ito (played by Joe Taslim), a former triad enforcer, and his mission to protect a young girl while trying to escape his former gang after his mysterious disappearance setting off a violent battle on the streets of Jakarta.
News & Interviews for The Night Comes For Us
Critic Reviews for The Night Comes For Us
Audience Reviews for The Night Comes For Us
The Night Comes for Us features levels of gore not found anywhere else but your most gratuitous horror flicks, so if you can't handle that sort of thing, I suggest you give it a wide berth. If some blood and guts aren't an issue for you though, WHAT ARE YOU DOING? WHY ARE YOU SPENDING VALUABLE TIME READING THIS REVIEW THAT COULD BE SPENT WATCHING THE NIGHT COMES FOR US?
The story may discombobulate some viewers amidst all the gory-goods of its action-packed violently choreographed sequences and ultimately The Night Comes for Us is hinged on all those epic moments and scenes that tests the boundaries of bloody-good action films and is sure to satisfy and maybe even surprise those moviegoers. 4/5
Eugene Bernabe
Super Reviewer
So, before we get this review underway, I feel the need to mention four of my top 5 favorite action movies ever. Those four movies are, in no real particular order, Mad Max: The Road Warrior, Mad Max: Fury Road, The Raid and The Raid 2. Actually, I wouldn't really even know what the fifth spot would be occupied by. I very much enjoyed the first Mad Max, but it wasn't as mind-blowing to me as The Road Warrior and Fury Road were. Beyond Thunderdome, the third installment in the franchise, didn't really do much for me. Its more kid-friendly approach dulled the originality and creativity of the franchise. The action sequences, while still top-notch, lagged behind what was seen in The Road Warrior. Neither here nor there, I suppose, since this isn't a review for a Mad Max movie. The Raid and The Raid 2, however, are highly relevant to this review, given that it's made in the same country and it stars Iko Uwais who, of course, was made famous by his appearances in both Raid movies. If you love action movies and you haven't seen the two aforementioned movies, then you're just doing something wrong. The first one was far more straightforward, balls-to-the-wall frenetic action with minimal story. The second movie, while still retaining the incredible action, was more of a crime drama. Both movies are incredible for completely different reasons. But, of course, the constant in both films was the amazing action sequences. And it's not just fight scenes, it's car chases, it's gun fights. The Raid franchise really does have something for everybody. It's brutal combat is beautifully choreographed and ingeniously edited. Ever since The Raid, Gareth Evans, Iko Uwais and Yayan Ruhian, despite most people not actually know their names, have been in high demand and you can see why when you see the latter two fight. They really are some of the most entertaining martial artists that I've ever seen. I love Jackie Chan, but these two are just on another level with their skills at choreographing fights. Point is that, to me, I felt that American action movies have, the original Raid came out in 2011 (almost EIGHT years ago), lagged behind these two seminal works of action. This movie, from the same country, learns a lesson that the Americans have not yet learned. And that lesson is BE MORE LIKE THE RAID. Though, in all fairness, a film like this one, which is actually one of the most violent movies I've seen in a long while, simply would not pass MPAA certification. I feel like they would actually have to create a new rating simply for this movie, that's how violent it actually is. That's the problem with American cinema, action filmmakers are afraid to push the boundaries of their content for fear of an R-rating when the studio wants a PG-13 rating to get more people in theaters. Though, also in fairness, this has changed a tad with the success of the Deadpool franchise and Logan. There is a market for R-rated movies, but the violence, in the Deadpool movies at least, feels more stylized and not as unflinchingly brutal as it is in this movie. I feel that the MPAA, however, limits the creativity a filmmaker might be able to express. MPAA, essentially, is a means of censorship under the guise of warning parents what movies are or aren't suitable for their kids. None of that really matters however. The point I'm trying to make is that this takes The Raid's formula of hyperviolent, kinetic action and pushes, on the hyperviolence at least, to a whole new level. This is also the best pure action movie I have seen all year, bar none. I love Deadpool and I love Black Panther, but they don't hold a candle to this as it relates to action content. Is it better than The Raid? No, I don't think so, I think The Raid does a better job at making its fight scenes look a little bit more kinetic and smoothly edited. That's not saying that this movie isn't either of those things, it's just a slight step below The Raid on both regards. But, fucking hell, if this isn't an incredible action movie, then I don't know what is. I imagine that the one drawback a lot of people will see with this movie is, again, its supremely high level of violence, blood and, sometimes, gore. However, I do believe that the trailer makes it perfectly clear that it's gonna be a bloodbath. Also, given that it patterns itself after The Raid, again, this is another indication that this movie was never meant for the squeamish. That's not saying that there aren't legitimate complaints about the film's violence, but all of you knew what you were signing up for so, really, I don't see how you could be surprised. With that said, as if it wasn't obvious, I loved this movie. And, really, I wanted to wait until I saw Headshot, Timo Tjahjanto's previous film (though he co-directed that one), before I saw this one, but I was like fuck it and I picked this instead. Trust me, I was really looking forward to this one and, I'm glad to say, that it didn't disappoint. That's not to suggest that the film is perfect because, really, no film is. I do think that, in terms of narrative, the movie isn't perfect. The focus of the movie seems to be the eventual showdown between Ito and Arian, both members of the same gang a few years prior to the events of the movie, who went their separate ways when they joined the Triads. Ito went on to be an elite enforcer for this group called the Six Seas which, at the beginning, is seen slaughtering an entire village for stealing Triad money. Arian, on the other hand, is running a small club for the Triads in Macau. Ito, however, betrays the Six Seas to save the only live member of the village, this little girl. He goes on the run to get himself and the girl out of the country, turning over a new leaf in the process. Of course, the Triads are not pleased with this and they assign Arian, who's eager to climb up the ranks, and a lot of thugs, to get rid of the girl and Ito, as they do not like loose ends. Like I said, the narrative isn't exactly great, but it is obvious that Arian is being manipulated by Chien Wu. I do appreciate the fact that the movie gave something for Ito and Arian to do that wasn't just being badasses, heading on a collision course to their climactic battle, but sometimes the movie's narrative can be a little bit muddled. Perhaps not even muddled, but just not that interesting. They do enough to get by and I do like how they play Ito and Arian against each other. Like I said earlier, they were part of the same gang years ago, along with Fatih and Bobby (both characters essential to one of the most insane extended action sequences I've seen in a while), and both have gone on to wildly different paths in the Triads. Ito is an elite enforcer, while Arian is runs a small club. One of the things I didn't like, however, was how the movie didn't exactly make it clear as to why Ito joined the Triads. There seems to be something with Bobby, but they never make it clear as to what it was, like Ito paid Bobby's debt or something. I do not know. With that said, however, I do think the acting is quite good. Joe Taslim looks the part of an enforcer and I did like his journey of redemption through this little girl. Iko Uwais is also really quite good in this movie, like even better than I expected. It's not that I would expect for him to win awards based on his acting alone, but he can certainly more than hold his own and, really, even excel in something that's a little different than the roles he's usually offered. It's not that Arian is a villain per se, but he's just stuck on the fence. As he does not know whether he wants to be loyal to Ito due to their past or if he wants to replace Ito in the Six Seas, which is the position that was promised to him if he completes his mission. It just gives Arian something to ponder and, really, Iko Uwais' and Joe Taslim's charisma definitely helps make up for a lot of the narrative deficiencies and the strange pacing in between action scenes. Did I mention the action is out of this world? Because, really, it's out of this fucking world. The movie does take a rest every once in a while, but the fact of the matter is that there's no other movie, this year, that can compete with this one in terms of action. There's just not. There's no other movie out there that can boast as smoothly edited action scenes as this one. It bears repeating, but there's just not. The scene in the apartment, where Fatih and Bobby are a central part of it, is just something that needs to be seen to be believed. Is it a little unbelievable? Maybe. Fatih and Bobby fight something like 30 or so guys, maybe slightly more, and, surprisingly, they actually win this fight. I suppose it's the video game rule, where the more enemies you fight, the weaker they tend to be, but if it's just one person, the boss fight so to speak, then that person is stronger than those 30 people combined. The point is that this scene in the apartment is absolutely fucking BRUTAL. But, here's the thing, I do think the violence gives the action a lot of more impact, it feels like there's actually a fight going on, since you do get to see bones breaking, faces blown off by shotguns, skulls crushed, limbs blown off by grenades, necks snapping, etc, etc, etc. I don't think the movie is as believable as it is, within its own context of course, without the violence being turned up to 100. But the movie's action is still wonderfully choreographed and edited. So, even if the violence wasn't as extreme as it is, it would have still received the same rating. One of my favorite fight scenes is between The Operator and Elena. These two just beat their ass and The Operator rips her own finger off, after almost being cut off, then The Operator proceeds to stab Elena in the arm with a knife, just below the elbow, and then she slices upwards, with the knife still inside her, and just wrecks her arm just below the hand. Oh and did I mention that, through all this, Elena is fighting with her guts hanging out, literally. God-fucking-damn, this was a memorable fight scene. Joe and Iko's fight scene also lives up to the hype. It's a good mix, because Iko is more used to, at least in Indonesian films, used to fighting guys just like him, quick, agile and nimble. Joe, however, is more of a 'bruiser', so it makes for a good contrast. The climactic fight between the two is also pretty fucking great and a satisfying conclusion to their 'feud'. The ending is also pretty fucking great as well, with Joe driving madly at the Triads, who are filling the car full of bullets. You get a close-up of Ito's face as he yells and then the movie ends. It's a simple and not all that creative ending, but I do still like it. Because, even though you know Ito is not making it out alive, you know that he's gonna take, at least, a few of Chien Wu's men down with him. It's great, the whole movie is great, I love life. This is ironic in a film as full of death as this one. With that said, I would easily recommend this if you love action movies and you're squeamish. It gets a few points taken away as a result of its narrative issues, but the movie knows what you want and it delivers what you want in spades. The characters are memorable, the action is out of this world, I can't really complain much about this in the slightest. So, yea, I loved this, if it wasn't obvious.
Jesse Ortega
Super Reviewer
The Night Comes For Us Quotes
There are no approved quotes yet for this movie.