The Night Strangler
(1973)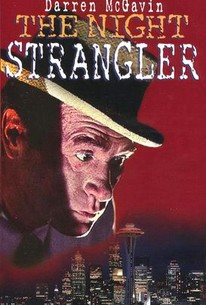 Movie Info
The Night Strangler is the sequel to the enormously successful 1972 TV movie The Night Stalker. Darren McGavin returns as seedy reporter Carl Kolchak, who previously ran into conflict when Las Vegas authorities refused to acknowledge Kolchak's uncovering of a modern-day vampire. Now he's in Seattle, on the trail of a mysterious strangler who drains the blood of his victims. Kolchak's quest takes him to a hidden underground city beneath Seattle and the bizarre residents therein. Margaret Hamilton (The Wizard of Oz) is seen briefly as an expert on alchemy; John Carradine also makes cameo. The success of this telemovie and its predecessor inspired a brief 1974 TV series, Kolchak: The Night Stalker, also starring McGavin.
Critic Reviews for The Night Strangler
All Critics (6) | Fresh (6) | Rotten (0)
Interesting spin on the Jack the Ripper legend
June 7, 2003 | Rating: 3/5
Darren McGavin creates one of the great TV characters in reporter Carl Kolchak.
March 13, 2003 | Rating: 4/5
Great sequel to The Night Stalker
December 4, 2002 | Rating: 4/5
Audience Reviews for The Night Strangler
A excellent sequel to the thriller "The Night Stalker," which stands as one of the highest rated made-for-TV films ever made. Darren McGavin reprises his newspaper reporter role of Carl Kolchak, in a superb performance. This time tracking a story in Seattle, Washington, where a mysterious nocturnal strangler has been murdering young women, and removing small amounts of blood from the top of there skulls. Good creepy fun, with good supporting performances from Richard Anderson, John Carradine, Wally Cox, and Margaret Hamilton.
Danny Rovira
Super Reviewer
Great sequel to the first Night Stalker movie.
Anthony Valletta
Super Reviewer
The Night Strangler Quotes
There are no approved quotes yet for this movie.