The Nightmare
(2015)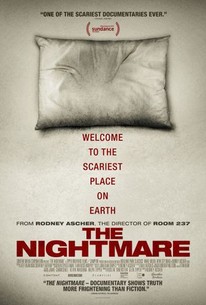 TOMATOMETER
AUDIENCE SCORE
Critic Consensus: Part documentary, part thriller, The Nightmare works just well enough in both respects to deliver a uniquely disturbing viewing experience.
Movie Info
A documentary-horror film exploring the phenomenon of 'Sleep Paralysis' through the eyes of eight very different people. These people often find themselves trapped between the sleeping and waking worlds, totally unable to move but aware of their surroundings while being subject to frequently disturbing sights and sounds. A strange element to these visions is that despite the fact that they know nothing of one another, many see similar ghostly 'shadow men.' This is one of many reasons many people insist this is more than just a sleep disorder. This documentary digs deep into not only the particulars of these eight people's uncanny experiences, but it also explores their search to understand what they've gone through and how it's changed their lives.
News & Interviews for The Nightmare
Critic Reviews for The Nightmare
Audience Reviews for The Nightmare
½
As a horror film, it is absolutely terrifying and almost made me think that I would never sleep again, but as a documentary, it is a joke that doesn't care to offer any scientific point of view or insight into its subject, relying instead only on a bunch of unreliable people and experiences.
Carlos Magalhães
Super Reviewer
½
Out of every horror film I've watched in my horror fest during this month, this, by far, has got to be the most interesting and terrifying of them all. As much as I love Re-Animator, it's not like that film would really terrify people. This movie is terrifying because, as you guessed it, it focuses on something that's very real and something that many people go through and that is sleep paralysis. Though the people highlighted in this, however, suffer from a more extreme form of sleep paralysis, in that while they're stuck, unable to move, in between being asleep and awake where they see terrifying visions and hear disturbing things. The film works both as a documentary and a horror film because there's reenactments of the stories these people tell of what has happened to them. It's interesting in the sense that so many people, and this is about people that aren't even highlighted in the film, describe many of the same things. Tingling sensations, seeing shadow people, hearing voices telling them terrible things. The film is pretty much structured and paced like a horror film. And, with some of the things these people describe, it's definitely difficult not to see this movie as one that should be considered part of the horror genre. It's also interesting to see how the hallucinations, if you wanna call it that, intensify more, at least in the case of some people, as time goes on. It gets to the point, at least in one case, where one of the people interviewed in this movie feels pain when he wakes up since he was being attacked during sleep paralysis. It's as far as to where some people interviewed in the film have had this happen to them since they were little kids. Of course, they're adults by the time the film starts. That's just a horrifying idea to me honestly. Sleep is a sanctuary for so many people. Their day has gone terribly? At least they can get some hours of peace and calm while they're asleep. These people can't even get any peace and quiet because of the fear that the sleep paralysis will set in. It's also disheartening to see how people think, after a period of not getting the paralysis, and how they finally think they've overcome it, that it, the sleep paralysis, ends up coming back and considerably worse than before. It's both terrifying and sad all at the same time. The film is definitely worth watching, to me. It might not offer a comprehensive research on sleep paralysis and what might make it happen, though the people interviewed do offer their own theories, but they don't really go into detail on them much. While I understand not interviewing any doctors, the film is about the people that suffer this and not necessarily just sleep paralysis itself, but it would've offered and interesting juxtaposition of opinions. Like the professional opinions vs the opinions of those who actually go through this. Still, I'd still highly recommend this movie. It offers a highly fascinating and disturbing look at a subject matter that hasn't been as highlighted as much in documentary filmmaking. Really good film here.
Jesse Ortega
Super Reviewer
½
Several victims of Sleep Paralysis share their scary and unique stories involving very obscure interactions and encounters with paranormal entities. This Documentary even mixes in a bit of horror and mystery fit enough for an X-Files episode, The Interviewees are very honest and disrupted sharing their experience also well re-enacted by the film's supporting cast. Enough of what's at play will send chills up viewers spines and fascinate the most curious. whether or not this type of phenomenon inspired the famous 'A Nightmare on Elm Street', it's respectable enough to portray a very unique and disturbing experience, even for documentary or horror fans.
Luke Eberhardt
Super Reviewer
The Nightmare Quotes
There are no approved quotes yet for this movie.