The Nines
(2007)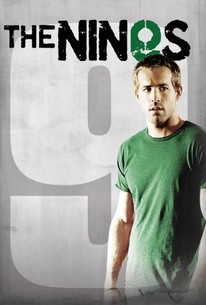 TOMATOMETER
AUDIENCE SCORE
Critic Consensus: Though The Nines doesn't solidify as well as writer/director John August would hope for, Ryan Reynolds's strong performance makes each of the film's intriguing segments worth watching.
Movie Info
Writer/director John August ponders the metaphysical aspects of life and art in an episodic allegory that follows three artists as they embark on a soul searching journey of fate versus free will. When a troubled actor is placed under house arrest in "The Prisoner," his imagination begins to run wild due to the fact that his spirited publicist and cynical neighbor provide his only link to the outside world. Later, after the planes of reality fold in on themselves during the production of a Project Greenlight-style show which documents the filming of a popular sitcom in "Reality Television," "Knowing" follows a successful video game designer and his family as they become stranded in the middle of nowhere due to automotive issues. Ryan Reynolds, Hope Davis, and Melissa McCarthy star in a drama that peels back the layers of reality to ask whether or not mankind really has any control over his ultimate fate.
News & Interviews for The Nines
Critic Reviews for The Nines
Audience Reviews for The Nines
Y9u never kn9w when y9ur number is up. Good movie. Very different from what I have seen before, this movie really has its own originality though its flaws also. The story was excellent but the acting was just not there, everyone played there roles pretty much mediocre and with a more talented cast it would have been way better. I still give props to Ryan for doing his best which is always noted, he's tough to be taken seriously since he's usually the funny type in movies. If you wanna watch something different that you probably haven't seen before go see this but see it with no expectation. Gary, an actor who plays a cop on television, uses too much lighter fluid when he burns his ex-girlfriend's things, then he drinks and drives, uses crack, and crashes his car. He sobers up in jail and is placed under house arrest and the watchful eye of a publicist, the cheery and tough-minded Margaret. She moves him into the empty house of a writer who's away in Canada on a shoot. Gary meets Sarah, an attractive and seemingly-willing neighbor. His friendship with Margaret blooms and strange things happen: he finds notes he doesn't remember writing, he hears noises, and he seems to bump into himself in the kitchen. Two remaining chapters reveal what's going on.
Susan: Do you feel like a man? Because I'll tell you a little secret - you're not.  "Y9u never kn9w when y9ur number is up." The Nines is a very interesting film with a clever concept that seems to get too wrapped up in itself. John August seems to try too hard to confuse everyone throughout when just the idea in itself would have been great. He tried to make the movie be all about the payoff at the end, when we find out what is going on. I just think it could have been a lot better had he gone about it another way. I did, however, moderately like the movie despite that. Ryan Reynolds is at his best and like I said before it is at least an interesting movie. I like how the movie used Hope Davis and Melissa McCarthy along with Reynolds in three different roles. That's not to say that I was totally sold on how everything in those three stories were brought together and summed up.  This is hard movie to rate because I do really want to like it because of the idea and the three performances from Reynolds, Davis and McCarthy. Then again it's rather disappointing and never becomes as good or even great as it could and should have been.
Melvin White
Super Reviewer
½
Melissa McCarthy is one of the most adorable fat chicks ive seen in a while. Hope Davis will still be beautiful when the apocalypse comes. Ryan Reynolds finally makes a movie as good as himself.
Coxxie Mild Sauce
Super Reviewer
The Nines Quotes
There are no approved quotes yet for this movie.