The Nun
(2018)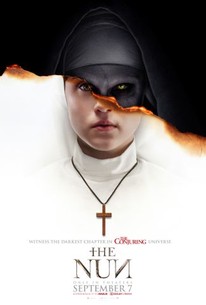 TOMATOMETER
AUDIENCE SCORE
Critic Consensus: The Nun boasts strong performances, spooky atmospherics, and a couple decent set-pieces, but its sins include inconsistent logic and narrative slackness.
Movie Info
When a young nun at a cloistered abbey in Romania takes her own life, a priest with a haunted past and a novitiate on the threshold of her final vows are sent by the Vatican to investigate. Together they uncover the order's unholy secret. Risking not only their lives but their faith and their very souls, they confront a malevolent force in the form of the same demonic nun that first terrorized audiences in "The Conjuring 2," as the abbey becomes a horrific battleground between the living and the damned.
Critic Reviews for The Nun
Audience Reviews for The Nun
Objectively speaking, this not a good movie. Even so, I have to admit I kind of liked it. Look, the story is as bare bones as it gets, basically just being a corny little haunted house story with some super forced and contrived backstories to either give a false sense of depth or provide fodder for scares. But if a movie's atmosphere and look is strong enough, I can kind of get past a lot of that, and The Nun just nailed a lot of the atmosphere of stuff I like. I like religious horror (except the overused exorcism trope), I like people walking around old castles, I like foggy graveyards, and the idea of a haunted abbey with a creepy nun just really appeals to a particular sense in me. As far as creepy Hammer Horror atmosphere, The Nun has it in spades, and it totally grabbed the part of me that wanted to see a priest running through an overly foggy graveyard. However, I know that is a particular appeal, and as far as plot and scares go The Nun doesn't really work. It's got creepy atmosphere that's actually pretty effective, but as far as actual scares it's just cheap jump scares. The characters are all surprisingly good and well played, but they don't have much story to work with. So I guess it's more of a guilty pleasure than a quality movie.
Michael Malan
Super Reviewer
½
The latest in The Conjuring series, The Nun is an incredibly terrifying horror film. The story follows a priest and a nun in training who are sent to investigate a Romanian nunnery in which a nun was found dead of an apparent suicide, but they soon discover an evil presence and begin to suspect that there's more going on than there appears to be. Both Demian Bichir and Taissa Farmiga give strong performances and director Corin Hardy does an especially good job at creating an atmospheric tone that's full of suspense. Additionally, the writers build the mystery of what happened at the nunnery fairly well and find a clever way to tie the story into the other Conjuring films. A bone-chilling supernatural thriller, The Nun is one of the best entries in the series.
Dann Michalski
Super Reviewer
Lazy and unable to come up with anything other than cliché after cliché from the first scene till the last (including a bunch of loud cheap scares), this is a nearly insufferable prequel that offers absolutely nothing original to the series and - which is worse - is never ever scary.
Carlos Magalhães
Super Reviewer
The Nun Quotes
There are no approved quotes yet for this movie.