The Nut Job 2: Nutty by Nature
(2017)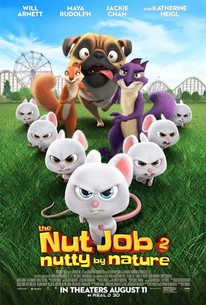 TOMATOMETER
AUDIENCE SCORE
Critic Consensus: The Nut Job 2: Nutty by Nature may be a slight improvement over its predecessor, but its frantic animated antics still offer minimal entertainment to all but the least discriminating viewers.
The Nut Job 2: Nutty by Nature Videos
The Nut Job 2: Nutty by Nature Photos
Movie Info
Surly Squirrel (Will Arnett) and the gang are back. We are once again in Oakton where the evil mayor has decided to bulldoze Liberty Park and build a dangerous amusement park in its place. Surly and his ragtag group of animal friends band together to save their home, defeat the mayor, and take back the park. THE NUT JOB 2 also features the voice talent of Katherine Heigl (The Nut Job), Jackie Chan (Kung Fu Panda 3), Peter Stormare (Penguins of Madagascar), Bobby Cannavale (Ant-Man), Isabela Moner (Middle School: The Worst Years of My Life), and Maya Rudolph (The Angry Birds Movie).
Critic Reviews for The Nut Job 2: Nutty by Nature
Audience Reviews for The Nut Job 2: Nutty by Nature
I honestly can't believe I watched this movie. I really don't know why I can't believe it, but I really can't believe it. I guess the fact that I wasn't exactly a fan of the original has a lot to do with that. But, and I've mentioned this in a few recent reviews, but sometimes you just need to decompress after a particularly memorable movie. I wasn't gonna be able to follow Mandy, my favorite movie of the year so far, with anything that was like it or even remotely close to similar. So that's why I ended up picking something that was, quite literally, the exact opposite of it. Because if I choose something that's more along the lines of Mandy, nothing is really gonna match up. So Nut Job 2 it is. It should be obvious, given how many of these films I actually watch, that I enjoy animated films. Or, at the very least, I want to enjoy them. Unless I'm watching The Room, I don't go into movies expecting them to be bad. I go into The Room expecting it to be bad because I've seen it before and it's fucking awful and, you know what, even with how bad it is, I've come to enjoy it. And that's what I really want. I can find some enjoyment out of bad movies and if I do, I have no problem pointing it out. Regardless, animation films (at least CG animation) are intriguing in that, unlike almost every other genre in existence, only the major studios end up producing good movies. There's obvious exceptions like A Monster in Paris and Jack and the Cuckoo-Clock Heart This isn't the case with hand-drawn animation (and I mean its style, not that it's actually all hand-drawn), as quality anime films are still being produced and, obviously, there's smaller hand-drawn stuff by Sylvain Chomet and Bill Plimpton. CG animation, which hasn't been around as long, has failed to catch up. I rarely see any good CG movies not done by one of the major studios and, to me, that's honestly kind of a shame. I feel that there's probably a lot of talented animators and storytellers out there that just aren't getting a chance because, in most cases, a lot of these CG movies are produced with the goal of taking a monetary bite out of that market, not because they have a great story they want to tell. And I feel that this is where movies like The Nut Job and Free Birds come along. Yes, Free Birds. How's that for an obscure reference??? These movies aren't made for the purpose of creating timeless stories. They just want DAT MONEY. And, after all, this is a business and I can't exactly blame them for that. But what I can blame them for is not putting in the effort to create a movie that's actually good. With strong characters, effective humor and strong animation. And that's the problem with the Nut Job and its sequel. Though, if I am being a fair man, I think this would have to be only a slight improvement over the original. And, quite frankly, I don't even know why. Maybe the movie's stakes are a little bit "higher" (the park is being turned into an amusement park by this corrupt mayor and it will force the animals out of their home) and they do a better job with characters this time, particularly with Buddy and Surly's relationship. Buddy, my favorite character in the original, still remains the 'heart and soul' of the movie, if this movie even has one. The reason I say this is because, of course, in spite of the slight improvements. This is still a relatively bland and lifeless CG movie. You know you messed up when the Despicable Me trilogy, which I am NOT a fan of in the slightest, is better than your movie. As generous as I have been to the Despicable Me franchise in my scores (all have received 2.5 stars), I feel like clearing that franchise's very low standards should not be difficult and, yet, this movie doesn't reach that. I think I'd give this the nod over the Minions spin-off movie. The Minions movie has better animation, due to its bigger budget, but this, I feel, is a better movie overall. Yes, yes I know. Saying that this is better than the Minions movie isn't really saying much, but I'm trying to be positive. There's very little in the actual movie that I found good, so I have to look outwardly in order to come up with something positive. Regardless, as I said, the movie does some decent stuff, like the whole backstory on Buddy and Surly's friendship might feel a little bit forced to some, like trying to add some depth to give off the appearance of being something more than just a silly animated film, but I thought it was effective in establishing the connection between the two and why they've been friends for as long as they have. Which, considering that they have the lifespan of a rat and a squirrel, must have been like four weeks. The rest of the movie is, honestly, quite forgettable slapstick. Not that it's terrible or anything, but it's just that nothing, pardon the pun, sticks. It's obvious that this movie is geared towards entertaining the children and I believe I've made my feelings on this approach known. If this is a feature-length film released in theaters (which this was) this means that most of your intended audience cannot go by themselves. Therefore they need an adult, or an older sibling, to take them to the movie. Only the youngest of viewers will find something to enjoy here, because they don't make any serious attempts to inject some humor that would have appealed to the people that have to take these kids to the movie. And I'm not saying it needs to be raunchy comedy like Hell and Back. Firstly, because that's not what this movie was going for. Secondly, because Hell and Back was fucking awful. While I had no problem sitting through this for however long it may have been, it's not like there's something that I can point to that I felt could have appealed to the people that have to take these stupid kids to these stupid movies. At least in terms of its humor. Its animation is decent enough, maybe slightly better than the original as well. With that said, I'll have to be honest, I thought the voice acting was perfectly enjoyable. There's some talented people voicing these characters and they all seem to be game for whatever the movie is throwing down, so I have to give them props for that. I think voice acting is one of the things that goes unnoticed in C-tier CG movies. Because most of these movies end up being bad, we tend to lump in the voice acting in with that as well and, really, that isn't exactly fair. I've seem some bad voice acting (Elle Fanning in Leap, for starters), but this movie isn't on that list. It's just that the script, quite obviously, doesn't match the talent of its stars. It is what it is. I don't really know what else I can actually say about this movie. This review definitely sucked, like most of my reviews (ZING!!!), but this movie didn't really do much. I didn't hate it and it was definitely a slight improvement over the original movie, but it's the type of movie that the youngest kids in your family will get any enjoyment out of. I can't exactly recommend it, but at least it's twice as "good" as Hell and Back. Second review in almost as many days that I've ended with shitting on Hell and Back. It's that terrible, this movie will seem like Coco in comparison. Still, that's not exactly a glowing recommendation for this movie, so do with that what you will.
Jesse Ortega
Super Reviewer
The wacky adventures of Surly Squirrel and his friends continue in the animated family comedy The Nut Job 2: Nutty by Nature. After the abandoned nut store is destroyed Surly and his fellow park animals are forced to return to the park and forage for food, but are soon kicked out when the mayor tears it down to build an amusement park. The voice work and the animation are really well-done, creating fun and interesting characters. And the soundtrack features some catchy songs that bring a lot of energy to the film. However, the script is formulaic and the villains are all one-dimensional stereotypes. Still, The Nut Job 2: Nutty by Nature is an entertaining film that delivers plenty of laughs.
Dann Michalski
Super Reviewer
In contrast, The Nut Job actually tries to be something that ended up being a critical failure in the first place. That's how it deserves that score it earns today. The Nut Job 2: Nutty by Nature, on the other hand, is begging itself to be better than its predecessor and also begging you to love it so that it can earn more money at the box office. If you get fooled by these things, it seems as if you're not ready to become the biggest moviegoer yet.
EpicLadySponge the Adventurer
Super Reviewer
The Nut Job 2: Nutty by Nature Quotes
There are no approved quotes yet for this movie.