The Nutcracker and the Four Realms
(2018)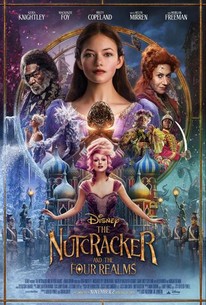 TOMATOMETER
AUDIENCE SCORE
Critic Consensus: Lacking a transporting yuletide story or dazzling dance routines, The Nutcracker and the Four Realms is a hollow holiday confection that's lovely to look at -- and easy to forget.
The Nutcracker and the Four Realms Videos
The Nutcracker and the Four Realms Photos
Movie Info
All Clara (Mackenzie Foy) wants is a key -- a one-of-a-kind key that will unlock a box that holds a priceless gift from her late mother. A golden thread, presented to her at godfather Drosselmeyer's (Morgan Freeman) annual holiday party, leads her to the coveted key, which promptly disappears into a strange and mysterious parallel world. It's there that Clara encounters a soldier named Phillip (Jayden Fowora-Knight), a gang of mice and the regents who preside over three Realms: Land of Snowflakes, Land of Flowers and Land of Sweets. Clara and Phillip must brave the ominous Fourth Realm, home to the tyrant Mother Ginger (Helen Mirren), to retrieve Clara's key and hopefully return harmony to the unstable world.
News & Interviews for The Nutcracker and the Four Realms
Critic Reviews for The Nutcracker and the Four Realms
Audience Reviews for The Nutcracker and the Four Realms
Feels like it was written and directed by an algorithm. Also, its really depressing that Tim Burton's "Alice in Wonderland" adaptation appears to have been the most influential movie on the aesthetic of Disney's live action adaptations.
Alec Barniskis
Super Reviewer
An exciting fantasy adventure, The Nutcracker and the Four Realms re-envisions the classic holiday tale. While at a Christmas party a young girl named Claire accidentally crosses over to a fantasy world where toys have come to life and discovers that her mother was once a queen there, and the regents seek Claire's help to defeat Mother Ginger, a former regent who has gone rogue and rebelled against the others. Starring Mackenzie Foy, Keira Knightley, Helen Mirren, and Morgan Freeman, the film has an impressive cast. And the costume and set designs are incredibly well-done, creating a wondrous fantasy world. Additionally, the score by James Newton Howard has an enchanting quality that helps to set the right tone. However, the plot is rather thin and fairly predictable. Yet it does find a clever way to include and honor the original Marius Petipa ballet. The Nutcracker and the Four Realms has its problems, but overall it's a fun family film that celebrates the magic of the season.
Dann Michalski
Super Reviewer
½
Not being overly familiar with the German story from which the famous ballet drew its inspiration I was completely game for this Disneyfied version of The Nutcracker story. If nothing else, I thought The Nutcracker and the Four Realms might make me feel like a kid again. You know, being fed classic literature through the guise of Walt Disneyï¿ 1/2(TM)s interpretation and being spared any gory or potentially upsetting details in favor of being sent home with a belly full of sentimental, if not substantial, satisfaction. This, coupled with the fact it might be nice to get a break from what might have otherwise been another ï¿ 1/2live-actionï¿ 1/2Â? re-imagining of one of my childhood classics made for a fair amount of-I wonï¿ 1/2(TM)t say excitement, but eagerness on my part. The fact it clocked in at a brisk 90-minutes didnï¿ 1/2(TM)t hurt either. And for the first half hour or so I was on board with what both the Mouse House and director-for-hire Lasse Hallström (Whatï¿ 1/2(TM)s Eating Gilbert Grape, The Cider House Rules) were doing and seemingly wanted to do. Without so much as breaking a sweat the film instinctively provides this necessary aura of Christmas warmth. I say Hallström is a director-for-hire because thatï¿ 1/2(TM)s what it feels like at this stage in his career and with this type of project, but as one can tell from the manï¿ 1/2(TM)s past credits this is not a single-faceted filmmaker and thus there are some very cool, very classic choices in terms of style as not only does the film pay homage to large ballet productions, but to the golden-age of movie musicals as well. I wonï¿ 1/2(TM)t sit here and pretend I know all there is to know about classic Hollywood musicals or ballet productions and make comments on how Hallström uses there influence to craft his visuals, but I will say that thousands of life-size mice forming together in constant motion to create one big Mouse King is absolutely terrifying and also rather visually inventive too. So, thereï¿ 1/2(TM)s that. It is once the parameters of the plot are defined and the characters all established that things become all the more predictable; the motivations of the characters and the lessons intended to be taught all equally as obvious. Our protagonist, Clara (Interstellarï¿ 1/2(TM)s Mackenzie Foy), is meant to learn lessons about and the differences between trust and responsibility as well as deception through this journey she has to commit to completing on her own and though these may feel like terribly trite lessons, there is something to be said for the fact that sometimes all people need for you to do is trust in yourself and hold strong to your ideals. It is in this regard that itï¿ 1/2(TM)s hard to come down on The Nutcracker and the Four Realms in any real harsh way. The fact the film starts off strong enough and initially feels as if it might become as immersive as the very expensive digital effects and fantastical sets make it seem to be it very quickly devolves into a stilted narrative that often times feels as if it too still has to work out the plot. Instead of putting in the work to figure out how the story might naturally progress though, and find a resolution that might stress the aforementioned themes it instead hurries through the beats of a discarded YA script to reach an underwhelming and lackadaisical finale. Morgan Freeman has maybe (maybe) a dayï¿ 1/2(TM)s worth of work in here and Helen Mirren barely registers. The same goes for Eugenio Derbez and Richard E. Grant who are massively wasted as afterthought supporting characters while Keira Knightley makes a (bold?) choice with that voice. More Matthew Macfadyen in things though, please. Thanks. The whole Russian nesting doll concept with real people was a cool idea too and itï¿ 1/2(TM)s bits like this mixed with the lack of them anywhere else in the third act that hint towards the fact Joe Johnstonï¿ 1/2(TM)s (October Sky, Captain America: The First Avenger) re-shoots might have been a bit more extensive than routine re-shoots. #ReleaseTheHallströmCut
Philip Price
Super Reviewer
The Nutcracker and the Four Realms Quotes
There are no approved quotes yet for this movie.