The Old Man & the Gun
(2018)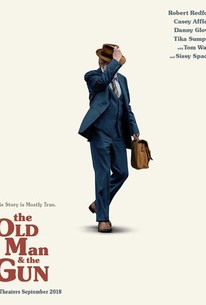 TOMATOMETER
AUDIENCE SCORE
Critic Consensus: A well-told story brought to life by a beautifully matched cast, The Old Man & the Gun is pure, easygoing entertainment for film fans - and a fitting farewell to a legend.
The Old Man & the Gun Videos
The Old Man & the Gun Photos
Movie Info
OLD MAN AND THE GUN is based on the true story of Forrest Tucker (Robert Redford), from his audacious escape from San Quentin at the age of 70 to an unprecedented string of heists that confounded authorities and enchanted the public. Wrapped up in the pursuit are detective John Hunt (Casey Affleck), who becomes captivated with Forrest's commitment to his craft, and a woman (Sissy Spacek), who loves him in spite of his chosen profession.
Critic Reviews for The Old Man & the Gun
Audience Reviews for The Old Man & the Gun
½
The last entry for another Hollywood legend, The Old Man and the Gun features Robert Redford in a true-life yarn about an over-the-hill bank robber. We get a fairly straightforward plot, with our protagonist being a lifelong criminal with a penchant for daring escapes, fashionable retro dress, and gentlemanly conduct during robberies. He is pursued by both the FBI and a detective (Casey Affleck) who grows to admire the old man and his grit. It is comparable to The Mule both in plot and the fact that we are saying goodbye to two of the coolest guys who ever graced the Silver Screen. (And how crime has consequences, no matter how likeable and elderly the perpetrator.) Redford gives a charming last ride and you can see why he excelled in the light-hearted crime flicks of yesteryear. Sissy Spacek also hits it out the park and has easy chemistry with Redford. Affleck proves a good foil for the protagonist, as he is a family man who reaches catharsis with his family, despite anti-climatic results for his investigation. As where Redford abandoned his family and CAN'T quit. Ever. He's addicted and will never be content unless 1. He's robbing banks or 2. He's in prison. You almost feel sorry for him, but then you realize that he's doing what he loves and causes minimal collateral damage. The Old Man and the Gun is light on conventional action but has a brisk pace and plenty of entertaining moments to make it a breezy Netflix or rental choice. I'd give it a look.
Joshua Sheetz
Super Reviewer
THE OLD MAN & THE GUN (4 Stars) A simple, easygoing joy anchored by Robert Redford delivering a charming swan-song to his career portraying a lifelong bank robber who refuses to quit. Just seeing him paired up with the wonderful Sissy Spacek made me wonder why that has never happened before. A third act montage brought me to tears as we flipped through the pages of a diary, understanding in some cockeyed way, that to stop what you love doing means to die.
Glenn Gaylord
Super Reviewer
Veteran Redford sizes up his acting career in this and opines that he was sort've more like a bank robber, yeah, but one that never uses his gun, okay, cause he didn't have to, right, cause he did it all with charm. ("Why weren't you a method actor! Everybody else was?!" "Cause I did it the old fashioned way. I did it with charm.") And this one's got oodles of that, hoo boy. Sissy Spacek's along for the ride, and Casey Affleck too. And that's it. Done. The End. There's not much else going on here. The end of Bob Redford's acting career. He said he was quitting, right? Right? Or is it?
Kevin M. Williams
Super Reviewer
The Old Man & the Gun Quotes
There are no approved quotes yet for this movie.