The One
(2001)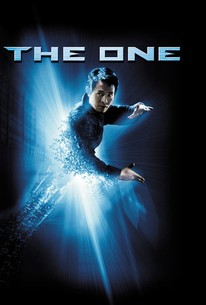 TOMATOMETER
AUDIENCE SCORE
Critic Consensus: The One plays more like a video game than a movie and borrows freely from other, better sci-fi actioners, burying Jet Li's spectacular talents under heaps of editing and special effects.
Movie Info
Former X-Files writer James Wong makes his sophomore feature as a director at the helm of this science fiction thriller that's reminiscent of Timecop (1994). In the near future, a technology called "quantum tunneling" allows human beings to travel between parallel universes. The abuse of this ability by criminal elements has led to the formation of the Multi-Verse Authorities or "MVA," an agency of quantum traveling cops who apprehend violators of inter-dimensional laws. The MVA faces its greatest crisis when a former agent named Gabriel Yulaw (Jet Li) goes renegade, traveling between one universe and the next, murdering his own parallel selves and gaining enormous power with each slaying. It is believed that when Yulaw has become "the one," the only version of himself to exist, he will be omnipotent, but the final Gabriel Yulaw exists in our plane of existence (the "magna universe") and is also becoming stronger, though he doesn't understand why. Hot on the evil Yulaw's trail are his former partner Harry Roedecker (Delroy Lindo) and Harry's new colleague Evan Funsch (Jason Statham). Created with Wong's longtime writing and producing partner Glen Morgan, The One (2001) co-stars Carla Gugino.
Critic Reviews for The One
Audience Reviews for The One
Wow... absolutely horrible. Can't even describe how horrible it was. Do not watch this crapfest.
½
Stealing the power of the universes one by one. An OK movie. More Jet Li action, not much different from his other roles. The movie was a little confusing to me but nevertheless nothing really appealed too much to me. The special effects didn't look so special and the acting wasn't there either. This movie is for Jet Li fans. The last fight between the 2 Jet Li's was pretty good I gotta admit but that was it. Nice cast but not used to there full extent. There is not one universe, but there are many, which is a multiverse. Supposing you are just one person, there are many other versions of you in the other universes, there are ways to travel, but only a police agency,MVA, can travel only for police procedures. Gabriel Yulaw is a former MVA agent, who killed another version of himself in self-defense. It made the other versions of him stronger. When Yulaw found out about this, he became power-hungry killing the 122 other versions for two years. After killing Lawless and getting captured by his former partner Roedecker and a new MVA agent Funsch, Yulaw managed to escape the prison and is trying to kill his last target, Gabe Law who is a police officer. He is also at Yulaw's strength. Roedecker and Funsch now have to arrest Yulaw before he can kill Gabe. There is a possibility that the universe could die or make Yulaw invincible. After encountering Yulaw for the first time, Gabe thought that it was his split personality, but it wasn't. Will Gabe be able to confront Yulaw before or after Yulaw ruins his life?
A former agent who policed the various different universes finds that killing the other versions of himself increases his own abilities and so sets out to murder them all and become a super being. On paper, this interesting alternate reality premise and the idea of two Jet Lis battling each other sounds great, but the workmanlike direction and unimaginative plot turns it into an unrelenting exercise in mediocrity. Essentially a shoddy Matrix clone, the action sequences are clumsy and unexciting and the cast struggle with their cardboard cut out characters, especially Jason Statham who is saddled with a wholly unconvincing American accent. This kind of meat and potatoes generic sci fi flick should be left to keeping the likes of Mark Dacascos in leather trousers; like all of the other Asian stars who get lumbered with similar second rate projects in their attempt to break the US, Jet Li is above this.
The One Quotes
There are no approved quotes yet for this movie.