The One
(2011)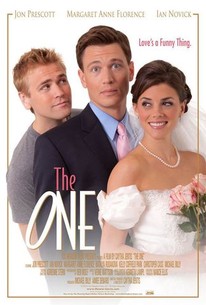 AUDIENCE SCORE
Critic Consensus: No consensus yet.
Movie Info
The One is a quick witted, romantic dramedy about a young successful Manhattan investment banker living the charmed life about to marry the woman of his dreams who, a month before his wedding, meets and unexpectedly falls in love with a charismatic man from his past. More than a story of coming out, The One is a story about coming of age. It's about a man growing up and learning to know whom he is rather than trying to live up to what he thinks others expect of him, realizing that until he does, it's impossible to fully love or be loved. -- (C) Official Site
Critic Reviews for The One
All Critics (1) | Top Critics (1) | Fresh (0) | Rotten (1)
Thought piece about identity? Soap opera romance? Light dramedy? Tragedy? "The One" doesn't find its footing in any of these genres; they just plod around one another uncomfortably.
Audience Reviews for The One
"The One" is a real face-palm of a film. It has all the necessary ingredients of a well done (albeit insubstantial) 4-star indie film -- all ingredients except one: a skilled scriptwriter. Either that, or every character in the movie is supposed to be schizophrenic for some unknown reason. Characters' motivations seem to turn on a dime. The closeted character is uncomfortable with his sexuality one minute, then seemingly fully comfortable the next, only to instantly regress back to the closet in yet another. In one scene, the closeted character tells his paramour to get out of his life, and then the very next minute when he leaves the apartment, the closeted character is so obsessed he's stalking the paramour and following him to a gay bar, presumably jealous that the paramour might find someone else. It's just nuts! Hence, the "face-palm" at the start of the review. Unfortunately, "The One" amounts to a string of squandered opportunities. This film would have been (and should have been!) much better, had it a decent script. As it is, it's just a nice-looking time filler.
Christian C
Super Reviewer
The One Quotes
There are no approved quotes yet for this movie.