The One That Got Away
(1958)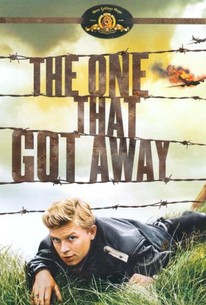 AUDIENCE SCORE
Critic Consensus: No consensus yet.
The One That Got Away Photos
Movie Info
The title character in this fact-based POW drama is Franz von Werra, played by Hardy Kruger. Shot down early in the war, Luftwaffe pilot von Werra is incarcerated in an English prison camp. He refuses to submit to camp routine, insisting that he's on the brink of escaping. After two failed attempts, von Werra is transferred to a camp in Montreal. If you want to know what happens next, take a squint at the title. If you want to know how he does it and why he gets away with it, catch the film. One That Got Away was based on a novel by Kendal Burt and James Leasor.
Critic Reviews for The One That Got Away
Audience Reviews for The One That Got Away
"The One that Got Away" starts with Oberleutnant Franz Von Werra(Hardy Kruger) crash landing his airplane in England. When he sees the man with the meat cleaver running towards him, he knows the gig is up and surrenders promptly. But he has no intention of sticking around long for the polite English interrogation, promptly requesting a move to a prison camp. That's before he makes a bet with an English commanding officer that he will successfully escape. You can have your gaudy special effects. I'll take some good old fashioned exciting filmmaking like which is featured in "The One that Got Away," directed as well as it is by Roy Ward Baker, even if it does start a little slow.(Great title, too.) For my money's worth, Von Werra making a break for it is the most breathtaking sequence I have seen in a good long time. While there are hints to his backstory, this is also detailed in life on the homefront of England during World War II where men do not listen to women at their own peril.(Short of the current television series "Manhattan," this is also one of the few post-war entertainments that connects the World Wars.) As far as Von Werra who survived on pure bravado goes, this was actually only part of his journey, as the endnote puts it with no shortage of irony.
The One That Got Away Quotes
There are no approved quotes yet for this movie.