The Onion Field
(1979)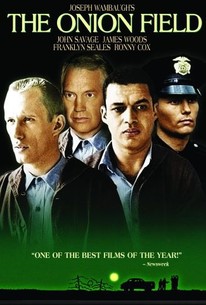 Movie Info
This film is based on an actual 1963 case. L.A. plainclothesmen John Savage and Ted Danson routinely investigate a pair of suspicious types. Unexpectedly, one of the men kills Danson in cold blood. Savage manages to escape and the men are arrested. But that is not that.
Critic Reviews for The Onion Field
Audience Reviews for The Onion Field
"The Onion Field" features a complex narrative and well-developed characters, but ultimately, it never goes anywhere. The scenes that are meant to provoke emotion fall flat, the final twenty minutes or so are unnecessary, and the pacing is slow and unbalanced. James Woods delivers a strong performance, but that's about it. There's nothing noteworthy about this film other than that.
Stephen Earnest
Super Reviewer
The Onion Field has real potential to be a very compelling film. There are tons of great character pieces with a complex plot, but it all somehow just doesn't go anywhere. This film is based on true events, but I'm wondering if the actual events were portrayed as is, and if so, did they need to be so true to them? I'm not going to spoil the entirety of the film, nor am I going to get into a discussion on dramatic character development and satisfactory story, but it basically winds down to nothing. Dramatic tension tries its hardest to kick in at times with little to no pay-off. This, to me, seemed more suited to be a Broadway production rather than a film. Two hours of complex plot and emotionally unsatisfying events make for a very dull film, despite the talent behind it.
Tim Salmons
Super Reviewer
½
A fantastic crime/prison movie, the story is really incredible, and the actors are great. The only problem is that it's a little too long. Other than that I loved it.
The Onion Field Quotes
| | |
| --- | --- |
| Mrs. Powell: | Besides it's all in the family. |
| | |
| --- | --- |
| Gregory Ulas Powell: | I believe I can help you make some real money. Real money, Jimbo! |
| | |
| --- | --- |
| Karl Hattinger: | [while in the onion field seeing his partner crying] That's the onions. It makes you eyes water. |
| Greg Powell: | Don't waste bullets! |
| | |
| --- | --- |
| Karl Hattinger: | At least you're tall enough to carry it. Married life's making me feel like an avocado with feet. |
| Jimmy Smith: | Mr. Brooks... I believe... I think that is something that rich white guys dreamed up to keep guys like me down. I honestly don't believe there is such a thing... such a feeling. Guilty? That's just something the Man says in court when your luck runs out. |
| LAPD Captain: | Any man who gives up his gun to some punk is a coward. Any man who does can kiss his badge goodbye, if I can help it. You're policemen. Put your trust in God. |
| District Attorney Phil Halpin: | Let 'em walk. If only I could send some lawyers and judges to the gas chamber. |